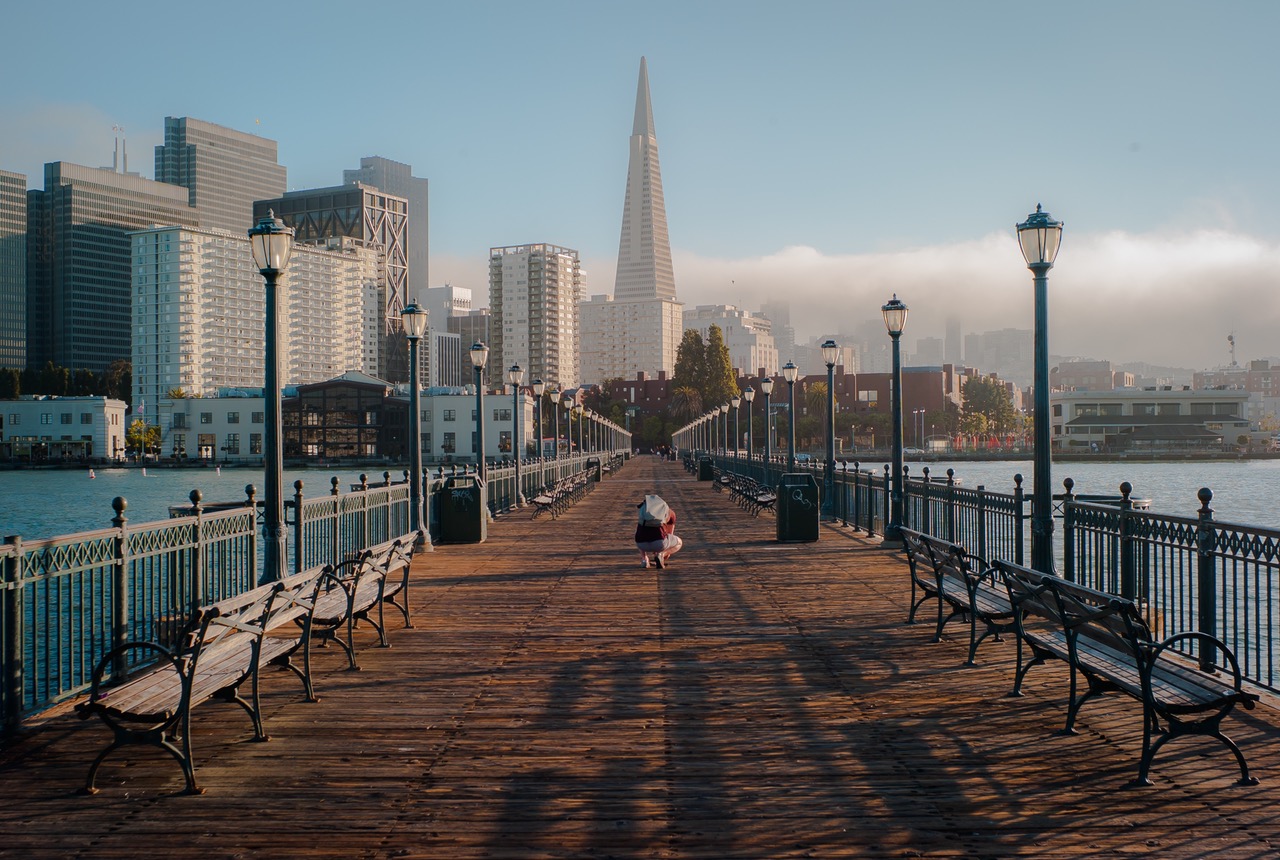 San Francisco is one of the most diverse and beautiful metropolitan cities and as a result its also one of the best places to live in the Bay Area. San Francisco has so many amazing things to do, eat, and see, and there are so many little gems many people have never heard of.  To help people discover these San Francisco treasures, I've created a list of 100 reasons why you should be moving to San Francisco (not in any particular order). Be warned though. If you don't already live here, you'll be itching to pack your stuff and move after reading this list. If I missed any of your favorites or there are specific items from the list you love, please let me know in the comments.
1. Seward Slides
Grab a piece of cardboard and head to these steep cement slides. Caution, these are adult speed and sized!
They open the warehouse on Friday nights to the public for fresh beer tasting.
3. Haight St Market
Some of the best and cheapest produce in the city. You'll find berries for a couple of bucks and some great wines to pair with your cheese, meat and veggie picks.
Has the cities finest drag queens, and serves it in a dinner show style with carefully prepared gourmet meals.
5. Hayes Valley Beer Garden
The perfect place on a sunny day. Dive into a tasty pretzel with your beer and it'll feel like a mini Oktoberfest.
6. Golden Gate Fortune Cookie Factory
Watch as fortune cookies are quickly prepared in front of you and then revel in their deliciousness.
7. The Wave Organ
Produces sweet sounds caused by waves entering this acoustic sculpture. Check the tide schedule for high tide for the best results.
8. Jackson Square Coffee
The baristas will make you a carefully prepared blue bottle coffee drink; pair it with one of their scrumptious bite sized cookies.
The only free 3 day music festival around.
10. Houseboats at China Basin
Stroll along the waterfront and view this alternative living style.
11. Free Museums
On the first Tuesdays of the month check out the De Young, Legion of Honor, or SFMOMA. Try the zoo on the first Wednesdays of the month.
Once yearly the normally conservative Civic Center becomes packed with glitter wearing, music loving, hula hooping San Franciscans having a great time.
SF City Guides offers free walking tours of one of the most historic and finest hotels in the city.
Sit outside in picnic style with a pitcher of beer sitting at one of the cities hippest bars, and try the backyard BBQ foods.
Has some of the tastiest Russian delights around. Try piroshkies and even choose baked or fried.
16. Fern Grove at Golden Gate Park
Waterfalls and ferns line the wooded paths. Find serenity after a tough day at the office.
Forget the X-box and take peek into the games of yester-year.
18.  Telegraph hill parrots
They reside in the tall trees around the hills of Coit tower year-round, and can frequently be spotted or heard in this area.
19. Aquatic park
Watch in awe as people swim laps in the frigid San Francisco waters.
Tantalizingly good dish at Ella's Restaurant! They have a delightful sticky bun too if you need a breakfast appetizer first.
21. Acme Bread paired with Cowgirl Creamery Cheeses
From the Ferry Building. Absolutely worth the trip!
22. Crissy Field at high tide
Using binoculars you can usually spot porpoise and dolphins in the bay under the bridge.
A largely unknown and little visited aquarium by locals. Its small size is soon forgotten once inside the carefully selected exhibits, including sharks, rays and local species.
Some of the tastiest, creamiest ice cream around. And, you can avoid the Mission and the lines of the other popular ice cream establishments in the city, and even take the cable car.
25. Oak St Laundry
Yes, it a laundry mat.  But its got free parking and they're the only laundromat that takes credit cards so we had to include it on the list.
The corn chowder is to die for if they happen to have it that day. Or just pick your favorite bear claw or Danish and dig in.
27. Roller Skate Disco
Swing by Golden Gate Park on a Sunday afternoon and you'll see roller skaters doing their thing to the sounds of the BeeGees and Bowie.  Even if you don't skate, it's a must see.
Doesn't matter what flavor, its going to be the best muffin you have ever tasted.
29. Garden for the environment
This charming community garden will provide a haven within the busy city and often offers classes and workshops.
30. One Half
Retail store in Nob Hill with quirky gifts for half off what you would expect to pay. Some real treasures can be found here.
Located on Van Ness you'll question it at first, but soon love the relaxing soaks in privacy.
Has one of the best Trivia Nights in town. Bring your "A" team and your "A" game, and head over on Tuesday nights.
The combinations platters are huge! Be sure to have one that includes the pomegranate chicken and spanakopita.
34. Bowl of punch from Hobson's Choice
A Victorian feel, paired with a tropical rum drink which can't be found anywhere else.
35. Sutro Baths
This was a private bathhouse overlooking the water in the 19th century and a must see. The ruins remain for walking and viewing.
Skip the crowded touristy ferry boat. For around 8 bucks you can take this great bay cruise, complete with bar on board.
37. The Cheese Shop
Located on Polk Street and offers some of the most divine cheese and freshly prepared sandwiches. Check up front at the register for tiny cheese chunks, around $1.00-$3.00, which are remnants from large expensive wheels.
38. Free DVD rentals at SF Public Library
They've got new and old releases. Request and reserve ahead of time, and you'll beat Netflix delivery times and save some moolah.
39. Lombardi Sports
A locally owned sporting goods paradise. Sign up for their mailing list, and they will send you major coupons each season.
40. Lees Sandwiches
in the Tenderloin might just be the cheapest sandwich in the city. Try any Vietnamese variety, and hold the peppers if you can't handle spice.
41. Bread and Butter Café
Makes a superb latte. Try a grilled cheese on the side, its especially enticing on a foggy day.
42. Numerous Stairway Walks
Get the book, "Stairway Walks in San Francisco" and get climbing.
See how the famous prisoners at Alcatraz lived and walk through their cells following a informative audio tour. If you want an eery version of the tour, look into their nighttime audio tour.
45. Small plates of comfort food
Its ok, order two- at the Fog city diner. Save room for a cheddar biscuit.
46. Tommy's Joynt
Come for the meat. Cafeteria style line up and portions, but savory well cooked meats await.
47. Ginger Cake with Pumpkin Ice cream at Chow
Delicious. Nuff' said.
Grab sushi and drinks after 10pm for a great deal.
49. Bix Old Fashioned Supper Club
You'll feel like you entered the 1940's, and enjoy a masterfully made steak frites while you're at it.
50. Maritime National Park
Allows you to roam through historical ships, ferries and boats. The lovingly restored boats are cool for tourists and locals alike.
51. Pizzeria Delfina
Excellent pizza. Cute little location with long lines.
52. Balboa Café
One of the best burgers in the Bay Area. Served on a baguette, you won't know what hit you.
53. Le Cordon Bleu Vietnamese Restaurant
Bring your own brew and order the five spice chicken, but don't be shocked when you realize there is only seating for about 10 people inside.
Offers massages for just $25-$30.00. The catch, it'll be given by a massage student- but I haven't had a poor massage yet.
Houses local and native plants, Christmas trees, herbs, etc- everything you need for a tiny SF garden. It's a perfect field trip.
56. Gingerbread houses at the Fairmont Hotel
During the holidays you'll be stunned with the number of gumdrops, licorice sticks and starlight mints used on these exquisite houses.
This appetizer at Town Hall restaurant is the most divine culinary creation known to man. Be prepared to be addicted.
58. Epic Harry Potter Halloween
Each year the neighborhood of St. Francis Woods puts on the best friggin' Harry Potter tribute. Garages, yards and homes in the neighborhood take on this immense theme party each season.
Cream puffs to die for in Cow Hollow. Try traditional, or chocolate filled for the best sweet treat.
60. Presidio Bowl
Its just 12 lanes, but the sweet bar and retro feel will get you bowling and might even inspire a few strikes.
Some of the best mixologists in the city. This tiny tropical drink mecca in Hayes Valley is a must splurge.
62. South Park
This cute little area is a hidden gem nestled between Brannan and Bryant St in SOMA. Cute little playground park surrounded by delicious eateries and outdoor tables for people watching.
63. The Galleria
Outdoor mall and eatery which becomes a farmers market each Thursday. It's a great find if you work downtown.
For crab cakes, shoestring potatoes and more charm than a café in Maine. It's your east coast fix on the west coast.
65.  SF Comedy Cellar
Deep in the Tenderloin, its an underground (literally) comedy house with acts which will leave you laughing for weeks.
66. Cable Cars are free with your monthly muni pass
Those early morning cable cars can be a great way to get to Fi-di in style.
67. Skeeball at the Buckshot
Perfect for those nights you want a cocktail along along with some nostalgia. Reminds of the days when I ruled Chuck E. Cheese Skeeball! They also have foosball, pool and a few other old school video games.
68. Dog Days at the Park
At least once a year, the bleachers at AT&T park are filled with dogs- it's a good time even if you don't have a pooch.
69. Good Vibrations
San Francisco's ultimate sex shop. Check out their sex museum inside while doing your Friday night shopping.
70. Rooftop Café at MOMA
A wonderful place to catch rays. Grab a torte from Café Museo for a tasty bite.
71. Emmy's Spaghetti Shack
Delicious food. Devour meatballs, pasta or a delicious "Shack Mule" vodka cocktail.
72. Queen Wilhelmina Windmill
Beautiful tulips are nearly everywhere. Check to see when they are blooming and take a mini trip to the Netherlands in Golden Gate Park.
The best vegetarian and vegan food known to man. My favorites are the Awesome Burger and the Green Goddess Kale salad. Free parking in front to boot.
74. Santa Con
Ever drive around in early December to find the streets filled with Santa's? It's a big pub crawl, but made magical with thousands wearing bright red Santa suits.
A must try for German delicacies. Their schnitzel, beers and strudel will make your mouth water for more. Arrive early, it gets incredibly busy.
Offers free brewery tours and tastings. Just call well in advance to reserve a place, and learn everything you ever wanted to know about brewing beer.
77.  Blow dry bar
They don't do cuts… just blow outs- so they are the experts for picture perfect hair.
78. Club Deluxe
Listen to excellent Jazz music here. Its only about five bucks and you'll be serenaded over drinks and pizza.
You will crave the sweet and spicy coconut broth for months to come.
80. Watch a movie at the Independent
Check the schedule for bar viewing, cocktails and a slightly more rowdy crowd that your typical movie theatre.
These guys are at craft beer specialists with over 45 rotating beers on tap.
82. Billionaires Row
Let your jaw drop in awe at the enormous single family homes. It's a great drive with guests in town.
For a food truck paradise.  You can also get crafts, listen to music and see and be seen.
84. Giant Pillow Fight
Each year stores throughout SF sell out of their stock of pillow for this amazingly fun event in Civic Center. We recommend a mask for minimal feather inhalation.
85. Seven Hills
This restaurant has some of the loveliest Italian food in the city. Skip North Beach and head to Hyde street; order the butternut squash tortellini. Yummers!
86. Dolores Park Summer Movie Nights
Are the epitome of San Francisco summer nights. Bring a picnic of gourmet foods and wine and you'll fit right in.
87. Mojo
Half bike shop half café. Try Tuesdays for the burger pop up.
88. Lions Pub for a Great Greyhound Cocktail
They will use a fresh grapefruit and press it before your very eyes. Look twice when going, its very discreet as it hard to find a sign on the outside of the building.
89. McCovey Cove
Watch Giants game for free. You'll be at the back of right field, but hey its free so who's complaining.
90. Wholesale Flower Market
Its open to the public at 10:00, but if you are a wholesaler go early for the best deals.
To die for. I recommend trying the coconut cream tart.
92. Critical Mass
Take over the streets in a massive, all are welcome, bicycle ride. First Friday night of every month.
is a total surprise. Sip a cocktail in this cool lobby and watch the world of interior design happen around you.
A completely strange experience, but an absolute must try. You are served in pitch black by legally blind waiters. Let your senses take over your eating experience. I quietly got up mid dinner and made my wife freak out when she realized I wasn't sitting next to her.
95. Hans Lilienthal House
Not only will you tour guide provide fascinating history of San Francisco, you'll get a sneak peek at a supremely restored Victorian.
96. Golden Gate Promenade
Lovely views of the bays, yachts, and great people watching.
In the Tenderloin, its tangy and not overly sweet and one of the best outside of the tropics.
98. Fantastico
Where party planners and crafters find supplies in San Francisco – offers everything you could need from baby shower favors, fake palm trees, to giant ceramic vases.
99. Soup from Café Prague
This strange and bohemian Fi-di establishment makes fresh soups everyday- try the cream of spinach for a strange but delicious savory treat.
Order this and take a walk around Fort Mason. Bay views and barracks make for a good on foot adventure.