Moving and need boxes to pack up all your stuff? ZippGo rents plastic moving boxes and offers free delivery. We're a small local company and have delivered nearly half a million of our moving crates to San Francisco Bay Area homes and offices. ZippGo's crush proof, water proof, and tear proof San Francisco moving boxes are delivered to your door for less than the cost of buying cardboard moving boxes. They are durable boxes, conveniently delivered to you, save you money, and eliminate the paper waste associated with cardboard. Our top rated team has delivered to thousands of Bay Area homes and we've got a solid 5 star rating on Yelp with over 160 reviews. Prices start at just $79 delivered. Order Now.
Conveniently Delivered To You
Come Ready to be Packed
Cheaper than Cardboard Boxes
2X Storage Capacity of Cardboard
Bottom Won't Fall Out
Crush Proof and Water Proof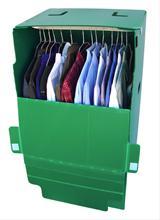 We deliver our plastic moving boxes and moving supplies to your door with free delivery
Just pack up your stuff and move to your new location. The boxes neatly nest as you unpack.
When you're done moving in, we'll pick up the boxes from your new address. Simple.