Office Moving Crate Rentals
Whether you're a startup or Fortune 500 company, ZippGo provides the moving crates you'll need to complete a successful and sustainable office move within the Bay Area. ZippGo delivers reusable moving crates (made from 100% recycled plastic) to your office, and we pick them up once your move is complete and your employees are unpacked. We've got over 10 years of experience delivering crates to Bay Area offices. We are fully insured to enter Class A buildings, and can always provide a Certificate of Insurance (COI) if needed.
ZippGo crates neatly stack on top of one another when full and easily nest within one another when empty, to help you save valuable office space. Used in combination with our custom 4-wheel moving dollies, ZippGo crates can be moved quickly and efficiently. Your movers, management and employees will love using ZippGo moving crates during your office move.
Beats Cardboard Boxes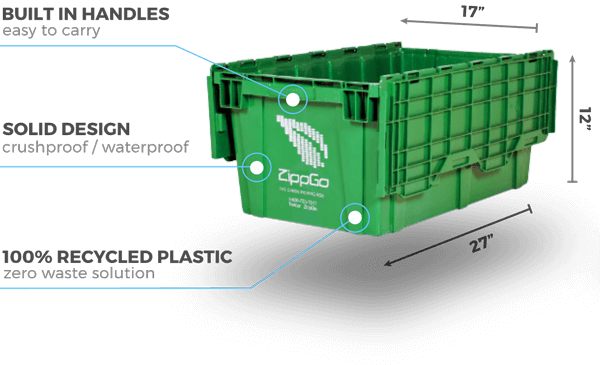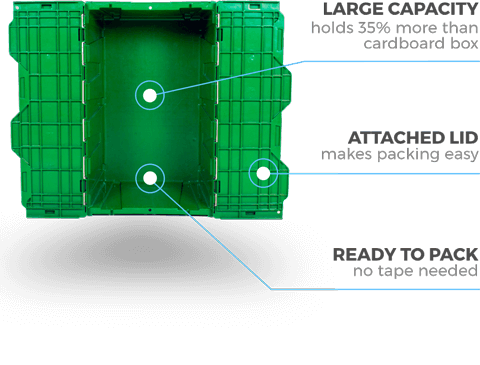 Benefits of Using Office Moving Crates

Significantly fewer manpower hours required for moving your possessions

Lower the number of moving trucks needed when you move to a new property

Reduction in employee downtime, resulting in increased productivity

Increased protection compared to cardboard boxes which are easily damaged

Reduction in compensation claims through increased safety using our dollies

Reduces your carbon footprint while enhancing your corporate image
ZippGo offers an excellent solution for companies who want to practice corporate responsibility by using sustainable moving boxes made from 100% recycled plastic instead of traditional cardboard boxes. Use ZippGo to save time, money, and trees. Call us today and we'll be happy to put together a custom package for your company.