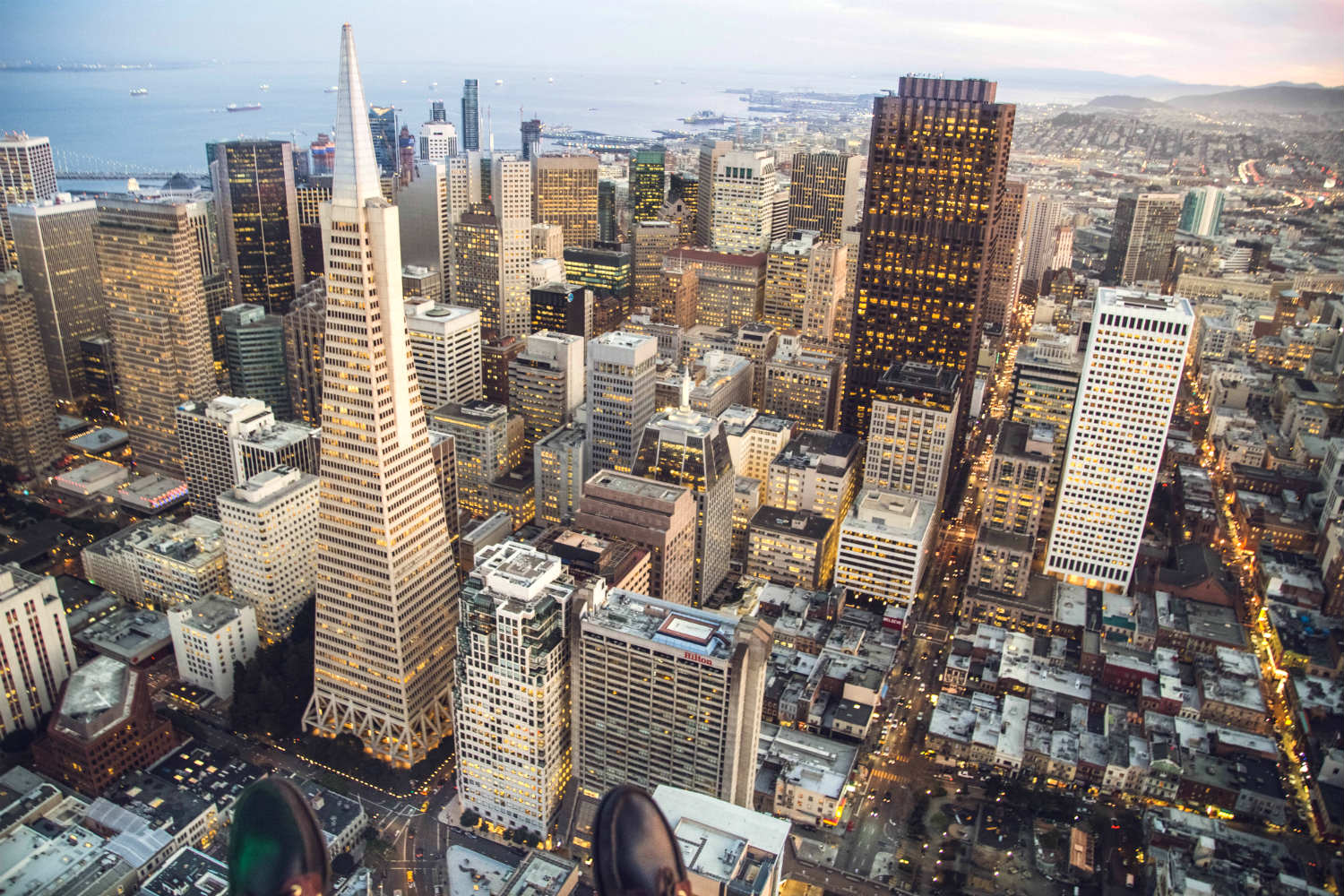 Whether you are single, married, or have a family you may be considering moving to San Francisco, the creme de la creme of the places to live in the Bay Area.  San Francisco has blossomed into one of the most desired places to live, not just in the Bay Area, but also in the country.  In addition to the beautiful neighborhoods, close proximity to the water, impressive and diverse restaurants, and famous tech scene, San Francisco has some of the nicest high rise buildings with upscale amenities and gorgeous views of the San Francisco Bay. Most of the new San Francisco construction in the last 10 years has taken place in the South of Market area, Aka SOMA, so it shouldn't be a surprise all of our top high rise picks are in this area. If you're planning to move into any of these high rises make sure you hire an insured moving company (required by the building management) and use plastic moving boxes from ZippGo (instead of crappy cardboard boxes and tape). With that said, here is our list of the top 5 high rise buildings in San Francisco.
1) Millennium Tower

If your driving on Mission Blvd in the SOMA area, there is no way you can miss this gorgeous tall black building.   Its massive and takes up a lot of visual space from the street.  The 58 story Millennium tower was finished in 2009 and is located at 301 Mission St.  As of this writing its the tallest  building in San Francisco at 645 feet tall.  The tenants of the Millennium reads like a who's who of the Bay Area's tech, sports, food, and entertainment scenes.  From Tom Perkins, VC at Kleiner Perkins Caufield and Byer, to 49er's sports legend Joe Montana, you'll be rubbing shoulders with the Bay Area's stars. Its not just San Franciscans who love this building either. Worth Magazine recently named the Millenium one of top 10 residential buildings in the world.  Yeah, of all the residential buildings on the giant green and blue ball we call Earth, Millenium is in the top 10. Wow!

Its not all shiny glass and celebrities that set the Millennium apart.  This insides of the building are what really make this the top residential high rise.  Inside you will find a 20,000 square foot club lounge with a private cellar, wine tasting room, and a private dining room to entertain 30 of your closest friends in some serious style.  Of course there is a state of the art 5,500 square foot gym managed by the premium Sports Club LA. If you're not in the mood to cook, you can always go downstairs and famed chef Michael Mina will cook you up a warm meal to go along with a glass of your favorite wine.  Mina's highly rated 5 star restaurant, RN74, is located in the building with priority seating for residents of the Millennium Tower.
2) The Infinity

The Infinity is made up of four individual buildings, two high rise towers and 2 mid rise towers, which all surround a common courtyard area.  The Infinity high rise buildings are semi cylindrical in design and has an entirely glass exterior with half of the building facing downtown and the other half providing views of the San Francisco Bay.  The first high rise building at 301 Main St. was completed in 2007 and  is 350 ft tall with 37 floors.  The second high rise was completed in 2009 and is 450 ft tall with 42 floors.  All of the buildings have their own concierge staff in the front lobby who handle visiting guests and incoming packages for residents.  All of the buildings are connected through a series of underground tunnels which meet up at the world class gym which is also below the surface.  The gym is spacious with multiple machines and free weights along with a 2 lane swimming pool. The entire development has 640 units with prices starting in the neighborhood of 700K for a 1 bedroom (probably without a view).  Home owner association fees range in the $800-$1200 range.

There is a beautiful large clubhouse and 20 person theater available to all residents at no additional charge.  Additionally there is a business center with workstations and copy machine.  On the bottom floor of the building on the corner of Spear and Folsom, is the 5 star restaurant Prospect.  Prospect opened in 2010 to rave reviews and is a beautiful restaurant which is conveniently located an elevator ride away for the residents of this building.  The area surrounding the Infinity gets quiet after the business day is over and aside from Prospect there aren't too many quality restaurants in the immediate area (although Boulevard is only a few blocks away).  If you like Dim Sum, you definitely want to walk over to Yank Sing which is famous around the country for their Dim Sum and is almost always full of happy diners.
3) One Rincon Hill

One Rincon Hill literally stands on its own and is the first building visitors see as they are driving into San Francisco from the Bay Bridge. One Rincon is made up a 640 ft tall building with 60 stories along with a smaller mid rise building. The location of One Rincon Hill is the same location where the 76 clock tower once stood (it was demolished to make way for construction of this luxury building). While the building itself is gorgeous along with the amenities its in the number 3 spot mainly because of its slightly inconvenient location. First, if you are a walker you will be walking up and down the hill each time you leave your place to go out. While its great exercise, its not what you want to be doing when your wearing heels or dressed to go out (who wants to break out in a dirty sweat?!?). The building has complimentary valet to spoil all the residents. Basically you pull up into the garage and a valet will take your car and park it for you. When you are leaving your place, just call down and they will have your car ready. The building has a luxurious club lounge which can be rented out by residents for a small fee ($50?). The club lounge has outdoor patios with views of the San Francisco Bay Area.

One of the big upsides of living at One Rincon Hill is the amazing view from almost every room in almost every unit.  If you're lucky enough to have a balcony you can sunbath on those rare warm days in San Francisco.  On the opposite note, the biggest downside is the distance of this building from restaurants and any sort of human live activity.  Nothing is that far (a few blocks) but it would be nice if there were more restaurants/bars next door.  Additionally, the building is right next to the freeway as well as an on ramp on to the freeway so the level of noise will increase the lower you are in the tower.
4) Madrone
Madrone is the newest high rise on this top 5 list.  Located in the sprawling new Mission Bay area of SF, its also the only building on this list which is not located in SOMA.  Madrone is comprised of two towers and a mid rise structure containing a total of 329 units. The Madrone is the latest in a trend of building luxury buildings for a new generation of young, hip, and modern buyers who want to enjoy all San Francisco has to offer.  Complete with 24 hour doorman, rooftop deck, fitness center, community center, swimming pool, club house, and of course the view, Madrone is a hot property in an up and coming new area of San Francisco.

5) One Hawthorne
Of all the buildings on our top 5 high rises list, One Hawthorne probably has the best location. Located in a rapidly growing area, One Hawthorne is close to Moscone Center, Yerba Buena Park, the W Hotel, Westfield mall, and a number of restaurants, bars, and lounges.  Thirsty Bear, Trace Restaurant at the W, Town Hall, Samovar Tea Lounge, Roe Lounge, Harlot, and 111 Minna are just a few places that come to mind. The building is located on the corner of Howard and Hawthorne which means its lacking in any kind of water view, but some of the units have views of Twin Peaks in the distance.

One Hawthorne is 24 stories tall and has 165 units in the high rise. With units ranging from studios, 1 bedrooms, 2 bedrooms, and 3 bedroom penthouses, One Hawthorne has something for almost everyone. They've also got a 24 hour lobby concierge, 24 hour valet parking, fitness center, and a roof top deck with a complete cooking area to host the barbecue of your dreams. The HOA dues at One Hawthorne are reasonable compared to others falling between $490 and $700 per month.