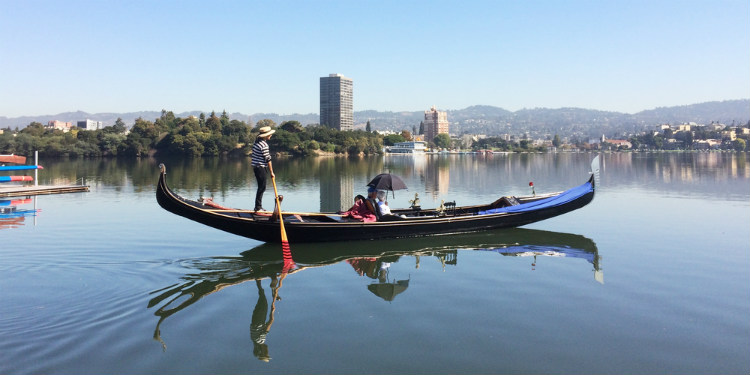 If you read the media's daily headlines, you might think every street in Oakland was filled with crime and violence. I'm by no means trying to sugarcoat Oakland as there are indeed gritty parts to the city. Unfortunately, these sensationalist headlines stop many people from exploring Oakland and discovering all the gems the city has to offer. From Gondola rides on Lake Merritt to the historic Fox Theater, Oakland has so many amazing things to experience.  If you're considering moving from San Francisco to Oakland to save some money while still being close to work, don't fret.  Oakland has plenty of charm.  To help you begin your love affair with Oakland, I've put together a list of the top 100 things to do, see, and eat in Oakland. If you are making the move, rent the the plastic moving boxes Oakland residents love to pack up all their belongings in. If you would like to add any things I missed to this list, let me know in the comments below.
Get a greyhound. Fresh pressed and made with love, they are the best in the bay area. Don't let the stuffed animals and taxidermy freak you out- its charming- sort of.
2. Oakland Zoo
Great habitats, assortment of animals, and much larger than you'd think.  Otters and giraffe feedings are pretty entertaining, so plan your visit around those.
Go for live music and great Japanese foods. Happy hour has some great deals including a weekly special, which is often cheap oysters.
Order a pint or a margarita and enjoy the water view, if it is nice- even on the dock. Go on Tuesday for a taco, just $2.50, and pair it with the house brewed IPA.
5. Heinolds First and Last Chance Saloon
Open since 1883- its name comes from it being the last bar before long sea journeys out of the port of Oakland. Its floor is crooked, and indeed looks over 100 years old, very cool.
It's a staple in Oakland, having been open for 118 years. Plan ahead and schedule a tour, complete with soda jerk hat and ice cream samples. Or, just try the roasted almond ice cream for a quick trip.
While its technically in Berkeley its proximity to Oakland makes it easy to go to, and worth the trip. See every type of produce under the sun, often for rock bottom prices; then visit the dry bulk foods section for spices, dried fruits, pasta or oats- also with reasonable pricing.
8. Jack London Square Blue bottle coffee
Go during the farmers market, and the sweet aroma of coffee will entice you as you walk among the vendors.
Serving up excellent beef brisket, try it for delivery or head to their downtown location for this savory meal.
10. Oakland A's Games for 2 Bucks
Most Wednesday baseball games have $2.00 Plaza Outfield and Plaza Reserve seats. Games are usually during the day, so you can have the stadium to yourself.
11. Redwood Regional Park
Try the skyline loop for great views, and a dog friendly path.
If paddle boating isn't your cup of tea, take a Venetian style gondola ride around the lake.  Your guide will do the work as you take in the best of Lake Merritt.
You order the fried chicken sandwich when you come here. Its topped with a great slaw, and for dessert get the strawberry short cake. Yum. Expect lines around the block.
14. Childrens Fairyland Gardens
Rides, entertainers and storybook sets have amazed Bay Area children for over 50 years.  You will need a child to go, but its fun for adults too.
Fresh breads and baked goods. Try the pizza, which is made with new toppings daily, often including such oddities as corn, potatoes, kale or gouda. Check the pizza menu out online to see what they are serving up.
16. Paddleboat at Lake Merritt
Get your legs ready for a slow but relaxing paddle around the lake. With its proximity to restaurants and ships, its great start to a date, or to capture views of the downtown skyline on a sunny day.
17. Highwire Coffee Roasters
Grab a latte or go for a tea or coffee tasting or tour. Learn all about roasting coffee or how tea is made. Tasty, educational and interesting.
18. First Friday Art Nights
On the first Friday of each month, artists, dj's and vendors gather for an evening party. Try the beer garden and don't miss the plethora of open galleries.
19. Grand Lake Farmers Market
This market isn't limited to produce-you'll also find cheeses, flatbreads, Indian delicacies, tea and more.  Grab your reusable bag and head there early.
With just about 50 beers on tap, its tough to make choice here. Located in the Beautiful Jack London Square, but if you want to save a buck, buy bottled beer to go, and drink them in your living room.
21. Wine on Piedmont
Get the expert to make your wine choice for you, even if your budget is small. This is the perfect place, and you can also pick up beers, taste your wine before buying and sample cheeses to pair.
22. Kaiser Center Rooftop Garden
In the summertime you'll find free concerts and sunshine during lunch time. It's a corporate 9-5'er's dream: daytime, mid-day concerts.
23. Rockridge Market Hall
Perfect for a date night, they even make heart shaped steaks and delectable cupcakes that are sure to please your lady.
With happy hours beers for just $3.00, margaritas for $5.00, you can't beat the prices or microbrew selection here.
25. Sway
Stylish, girlie clothing, accessories and shoes. When you walk in you'll feel like you've entered yet another overpriced boutique with unreachable pricing, but you soon find you have a pleasant sticker shock.
26. Grand Lake Theatre
Watch movies and get there early to see the old school organist play beforehand. The eclectic and original and will send you down memory lane.
27.  Pretty Penny
Shop till you drop and find some of the best vintage clothing available at the Pretty Penny. It beats Haight St. any day.
Indoor Bocce Ball courts make this bar unique and amazing. And, its right next to the Fox theatre, so a perfect place to pre-game before the show.
29. Crucible studio
Take a class at Crucible studios. Offerings include glass blowing, jewelry making, neon production, blacksmithing and more.  Or, if you are feeling risky, take the fire-eating course!
30. Hibiscus
This Barbados family owned establishment will send you straight to the tropics. Try the fried chicken, rice and peas.
31. Golden Gate Fields
Try the Weiner Nationals for a fun day at the fields watching daschund race in between regular horse races. Only $6 and wildly entertaining.
32. Preservation Park
A neat mix of 18th century buildings revitalized in the heart of the city, crossed with great event venues. Its ornate architecture is a perfect place for a photo op, or wander through on your lunch hour if you work downtown.
Order a tasty burger and fries but be sure to leave room for the toasted marshmallow milk shake.
34. The Foot Spa and Tea Bar
Make a date with yourself and head in for pampering and warm beverages.
35. The Ruby Room
Perched on the edge of Lake Merritt, it's a favorite dive bar in the Oakland, known for cheap and strong drinks. Bring your student ID, and well drinks become deeply discounted.
36. AC Transit and tons of Bart Stations
Oakland is a hub of transportation options. Ferries, trains and buses make it very easily accessible from any part of the city. You'll find AC transit reliable, on time and generally clean.
Located next to the spectacular Claremont hotel, the journey to view this amazing hotel alone is worth it. Then go for breakfast, which is served until 2:30 daily.
38. Southie
If you are craving a back east style sandwich, get to Southie. You'll get west coast ingredients including acme breads, made with what they call "east coast sensibility."
39. Issues
It's a magazine only store in the Piedmont neighborhood of Oakland. No matter the subject, this shop houses hundreds of magazines and is sure to have what you are seeking.
40. Temescal Recreation Area
Put your bathing suit on, and grab a spot in the sand at the Temescal lake area. The shallow swimmers area is refreshing within this urban setting.
41. Oaklandish
Art gallery crossed with apparel retailer, you'll find clothing and artwork representing Oakland. Get a hoodie and represent.
42. Chop Bar
During the summer time this hip establishment has pig roasts on some Sunday afternoons. As they say, come for the pig, stay for the party.
43. Nathan and Co
Kitchen items, home décor, interesting books, stationary or stuff- they have it. And, it's a dog friendly shop.
44. Home of Chicken and Waffles
They serve just what you'd expect- Chicken, waffles, grits, mac and cheese- good home cookin'. Great service too.
45. Wine Tasting
There are several great wineries in Oakland, and you can skip the long drive, fancy wineries and bay area traffic shuffle out to Napa. Instead head to Irish Monkey Winery we especially like the Meritage. You can do tastings for just five bucks.
46. The Alley
An epic dive bar on Grand Avenue; it's a piano bar with Oakland famous Rod Dibble on the keys and trivia on Monday nights.
47. Paramount Theatre
On Saturday mornings you can take a tour of this Oakland treasure, and get all the grit on its interesting and sordid history. Its art deco elements are wonderful to see in daylight, but it's a great concert venue too.
48. Jack London Square
Hang for the day- you can go to shops, restaurants, movies and even take the ferry to San Francisco. Its full of history, but also a great place to wander shops.
49. Oakland Greek Festival
A three day festival takes over Oakland's Lower Hills each May. Get some lamb roasted on the spitz, listen to Greek music, and then save room for baklava.
50. Mountain View Cemetery
While you may think it sounds morbid, this is actually one of the best places to get a view of the Bay Area. Trek to the top of the hill and take it all in.
51. Quinn's Lighthouse
A bit off the beaten path, Quinn's Lighthouse makes up for the journey. Throw your peanut shells on the floor and then check out the view of the nearby estuary.
A delicious specialty sandwich shop offering classics like the French dip to the more exotic like Moroccan carrot on raisin lavish bread. Grab it to-go, they have limited seating.
53. Linden Street Brewery
Taste to your hearts content, savoring several local microbrews at Linden Street. Then head outside to see what food trucks might be outside before heading back in for another beer.
54. 16th Street Station
This abandoned train station in West Oakland is one the city's finest architectural masterpieces. Keep an eye on their 16th street website to hear about upcoming events to get a rare chance to see inside and help support the revitalization.
55. Oracle Arena
Hop on public transit to get to a Warriors game, Raiders, or A's game- you can take part in the festivities on the train before hand and walk over with the masses. Is like tail-gating, but you don't have to drink and drive. Absolute must to see Steph Curry and the Warriors work their championship magic on the court. Go Warriors!
56. Classic Cars West
Check out this art gallery/ vintage car dealerships on Saturday afternoons. You'll be able to view everything from VW buses to Ferrari's, and great artwork.
Its all Mac and Cheese, all the time. OMG. Nuff' said.
58. Eat Real Festival
Featuring over 30 different microbrews and food trucks, this is a great way to spend a weekend.
Part owned by a member of Green Day, this restaurant is surely a place to be seen. Try breakfast, brunch or lunch in Uptown Oakland for a great hangover cure.
60.The Hills Swim Club
This luxurious fitness club will offer spa like experiences, and sunny swimming in the Oakland hills. Check craigslist for memberships, as they limit number available.
61.  Cato's Ale House
Go for the large selection of beers on tap, and then put your thinking cap on for a challenging Tuesday night trivia game.
62. Oakland White Elephant Sale
This enormous rummage sale benefits the Oakland Museum, and raises over $1.8 million! That should give you and indication of how large and vast their inventory must be- anything and everything can sleuthed here.
63. Great Graffiti
Graffiti is all over the place, and it is often some of the best artwork in the city and nation. Check fatcap.com for updates on new works, where to find great tags and more.
70. Fox Theatre
It's a historical, yet hip music venue with many huge name concerts each year. Neat, in that they theatre was closed for decades facing arson, homeless inhabitants, and economic depressions its been revitalized.
Go on date night or with friends for these great small plates. Don't miss the oysters or roasted cauliflower.
Located in Old Oakland, this is an old world beer bar, with a great Belgian and European beers on the menu. Try the chocolate mousse to end your meal.
73. Sibley Volcanic Preserve
Hiking trails to a labyrinth, and through canyons are a favorite. Or, take the pond trail to the frog pond filled with frogs and newts.
74. Lakeshore Café
Go for the affordable and delicious brunch. The strawberry mimosas are bottomless on weekends.
75. Lunar New Year Bazaar
The entire city gets decorated for this Chinese holiday. Check out shows, food booths and shop in the streets- each February
76. Oakland Airport
Truly one of the easiest airports to fly out of, anywhere- but especially the Bay Area. Cheap long term parking, no lines, southwest flights en mass, and easy security make this airport the best. Also enjoy the wine bar inside the terminal for Napa wines.
77. Zachary's Pizza
Oozing with cheese, and topped with unique and fresh ingredients, Zachary's is a great bet for pizza. They offer stuffed, thin crust, and the most favored- Chicago style.
78. Oakland Urban Farms
Oakland is a leader in urban garden and farming. Visit these farms for great produce, gardening courses and tips and beautiful sights. We love Pinehaven Farm in Montclair for live animals, orchards and wildlife.
79. Housewives Market
Tons of unique grocery products, close to downtown Oakland. Everyone raves about the linguisa sausage.
80. Tara's Organic Ice Cream
If you are a courageous diner, try some of the exotic flavors at Taras. Some of the more bizarre include pink peppercorn, sunflower seed butter, beet balsamic or sweet corn. You can also grab traditionals like mint chip or strawberry.
81. The Fat Lady
Old brothel turned dining establishment. Try the famous fried zucchini, or head in for brunch.
82. The Boot and Shoe Service
Visit the restaurant for an intimate dinner or the newly opened cafe for the ultimate hipster latte.
83. Tootsies
All girls love shoes- so ladies should head to Rockridge to this great, locally owned shop. Find the perfect boot, sandal or clog- and they'll even match a competitors price.
84.Middle Harbor Shoreline Park
Enjoy the great views and sunny skyline that Oakland has to offer, at this shoreline park. Bike trails and paths have placards that outline the wildlife and birds you'll see. With a fishing license you can even fish from the area.
85. Marzano on Park
Its candlelit interior makes this great for a date. Get a wood-fired pizza, or try one of their other dishes prepared in their wood oven. Their meatball appetizer is a great start to the meal.
86. Kona Club
Dark and mysterious from the outside, its actually a tiki-bar on inside. It's the farthest thing from a club.
Its been featured on the food network many times, so it tends to get packed. But the delish soul- food is worth the wait.
88. Tamarindo
Authentic and amazing Mexican food. Its next door to The Trappist, so a perfect place to post after your brews.
89. Cars
You can own one, and likely park it too. Unlike some areas of the Bay, this car friendly area has tons of freeways, lots and parking friendly streets.
This amazing vegan restaurant moved from SF to the Rockridge area of Oakland in 2015. The ambience is wonderful and the food is even better. Even if you're a meat eater, this place is a must try.  Plus they make some delicious cocktails.
91. Oakland Ballet
With tickets much more affordable than in SF, this company will still impress. Check out Nutcracker for a classic holiday experience with fantastic dancers.
92. Lanesplitter Pub
This East Bay standard for pizza and beer can be found in Oakland, Albany, Berkeley and Emeryville. Order pepperoni or try the loaded Sicilian Garbage Pie
93. Greetings
Need a gift-head to Greetings. The perfect place for cards, gadgets, and a great wall of socks.
94. Golden State Bonsai Collection
About 50-100 delicately trimmed and grown mini bonsai are featured at any given time at this Lake Merritt garden. Poke around, enjoy the craftsmanship.
95. Chinatown
Get away from the masses in SF's crowded Chinatown and instead try Oakland's. Restaurants are authentic, delicious and you'll also find great markets and shops with items direct from China and Hong Kong.
96.Heart and Dagger
What appears to be a biker bar is actually a sunny day paradise with a great back patio.
97. Morcom Municipal Rose Garden
Just as it sounds, this garden is focused on roses- bushes, vines, and trees. If you stick around you may even cross paths with wild turkeys roaming through. Beautiful place for a picnic.
Not exactly Oakland, since it located in Berkeley but if you're vegan or want to try out being vegan this place has some amazing vegan cheeses and food.
99. Peters Kettle Corn
Follow them for the traditional kettle corn or the new horchata flavor- you'll will be hooked on this sweet and salty treat. Look for them at food truck events around Oakland and the East Bay
100.  Mariachi Bands
The Fruitvale neighborhoods are full of Mexican culture, traditions and foods. Try Las Adelitas for the Mariachis and their homemade tortillas.