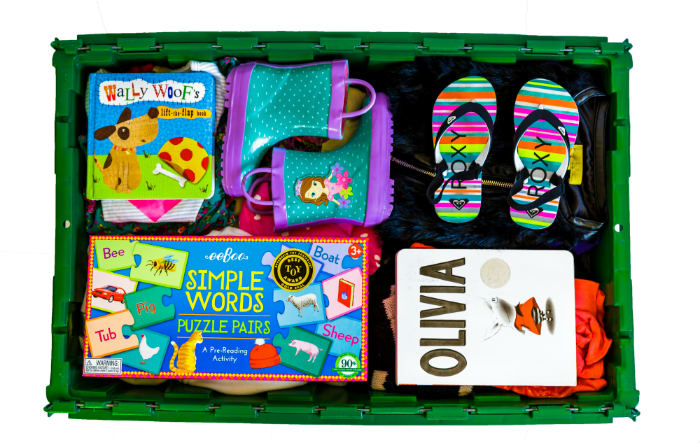 Oakland is a bustling location, with sprawling views and many neighborhoods of varying style and design. Within this uniqueness are larger homes tucked away up long flights of wooden stairs, rows of newer homes situated side by side along thin one-way streets, culs-de-sac galore, steep hills, and some very winding roads aligned with freeway on-ramps and off-ramps.
That being said, getting a moving truck—or any truck for that matter—around the Oakland area with ease is not impossible and professional moving truck drivers or anyone familiar with the tight curves and uphill segments of the landscape will figure out the best way. One thing is for sure. Since there will be so much shifting during transport, you don't want to use cardboard moving boxes to pack all your belongings.
It is for this reason that renting plastic moving boxes is the best solution for Oakland residents to protect their belongings and ensure safe arrival at their new home. ZippGo's moving boxes are environmentally friendly, come assembled and ready to pack which saves precious time, and are an excellent option for anyone moving to or moving from Oakland. Reducing one's carbon footprint and keeping money in the bank are just two of the many benefits that renting these boxes affords new movers.
Save Money By Renting Plastic Moving Boxes
The cost of renting plastic moving boxes is literally half of what standard cardboard moving boxes cost and with the added benefit of three varying sizes for all the different items in a typical household. The plastic moving boxes arrive pre-packaged which means you don't have to worry about sitting around for an entire afternoon folding the bottoms into place and securing them with tape. You also don't have to worry about buying tape, scissors, or labels for each box as the plastic moving boxes arrive with securely attached lids which are a snap to open and close, and labels affixed to each box so you can easily identify what is in each box.
Protect Your Belongings – Crush Proof Boxes
The ZippGo green moving boxes will not get crushed by other boxes or larger heavy items while being loaded or transported in the moving truck. With Oakland traffic, a seemingly endless number of lights, and some uphill suburban battles, moving boxes can shift around inside of a moving truck. This often leads to regular impact in the interior of the truck itself or on moving boxes loaded inside. If you're using cardboard moving boxes this generally results in crumbled corners, broken glass, and worn out cardboard prone to breaking when lifted. But with plastic moving boxes this will never happen. The ZippGo boxes are made of durable plastic whose thickness creates a strong barrier between your household goods and any external elements. Additionally, the durable plastic boxes stack nicely on top of one another which affords professional movers the ease of quick packing and a solid box structure inside of the moving truck. The more efficiently stacked boxes reduce the likelihood of boxes slamming into harder objects in the moving truck like corners of furniture. The slight curvature in the natural design of the box allows the bottoms of each box to fit to corresponding lids, offering angled protection against blunt force caused by hitting the sides of a moving truck dead on, a feature that cardboard boxes do not have with their strict 90 degree and angle-less design.
No Leaking Moving Boxes
The plastic material also protects any liquids you might have, such as stored glass containers of special oils for the kitchen or bath as well as unique living room fixtures or even toiletries. The plastic material will prevent any items from leaking out of the box and all over subsequent boxes while en route. Of course, any leak at all is a worst-case-scenario but it is good to have it confined to one box instead of spreading to others.
Prevent Weather Damage
The weatherproof aspect of the boxes protects your household goods from Bay Area weather damage, including the finicky quintessential thick fog which can sneak into cardboard moves and leave trace elements of water molecules on your favorite possessions.
Should your boxes damages in the event of roadway hazards or extreme weather, the boxes will retain their sturdy shape, not dilapidate under severe rains and exposure your household goods to the elements like cardboard boxes.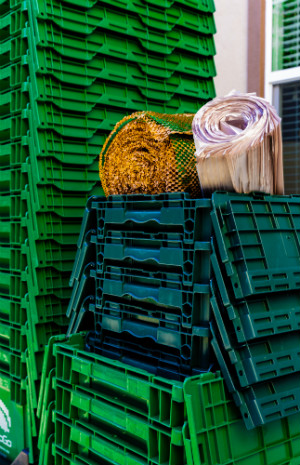 Simple End Result
When the boxes arrive, movers need only open the lids in the appropriately labeled space, and remove the contents. After the move is complete and the boxes unpacked, ZippGo's team will come to your new place and pick up the boxes.
With your plastic moving boxes, there are of course other packing supplies you can order from ZippGo in conjunction with the boxes. Recycled packing paper is the perfect environmentally friendly moving material to protect your goods while in their boxes. This paper can be used as a box liner and to fill in any space between the items you place inside. The material is made from a recycled paper the same as newspapers, so extra layers are ideal for fragile goods.
Bubble wrap can be used to prevent collisions among items inside of your box, while the plastic boxes prevent collisions on the outside. The Geami Greenwrap is an environmentally friendly green wrap roll that is made from recycled paper and perfect as a form of cushioning for delicate items like wine bottles, crystal kitchenware, or computer monitors.
Wardrobe boxes can solve your clothing crises in an instant. These plastic wardrobe boxes keep clothes upright, on their hanger which means no exposure, no damage, and no wrinkles. Fine clothing can be safely transported from one closet to another. The eco-friendly boxes are weather resistant the same as the plastic moving boxes and they are light weight. They are an ideal fix for linens and beddings too.
Because of the many steep hills in residential areas (i.e. Oakland hills), curving walkways, and cobblestone paths that lie before you in the Oakland area, a moving dolly may not always solve your problem but lifting straps can. Adjustable forearm lifting straps can get heavier mattresses, laundry appliances, or kitchen appliances from the truck to your new home. They can handle up to eight hundred pounds between two people. Their design enforces only proper OSHA-approved lifting techniques which naturally reduces the risk of back injuries too.
And finally, there are the supporting accessories including marking pens in excess and perhaps an extra cheese pizza for the friend who helped you use the lifting straps.
Contact ZippGo today to rent moving boxes Oakland residents have been using to move for years.