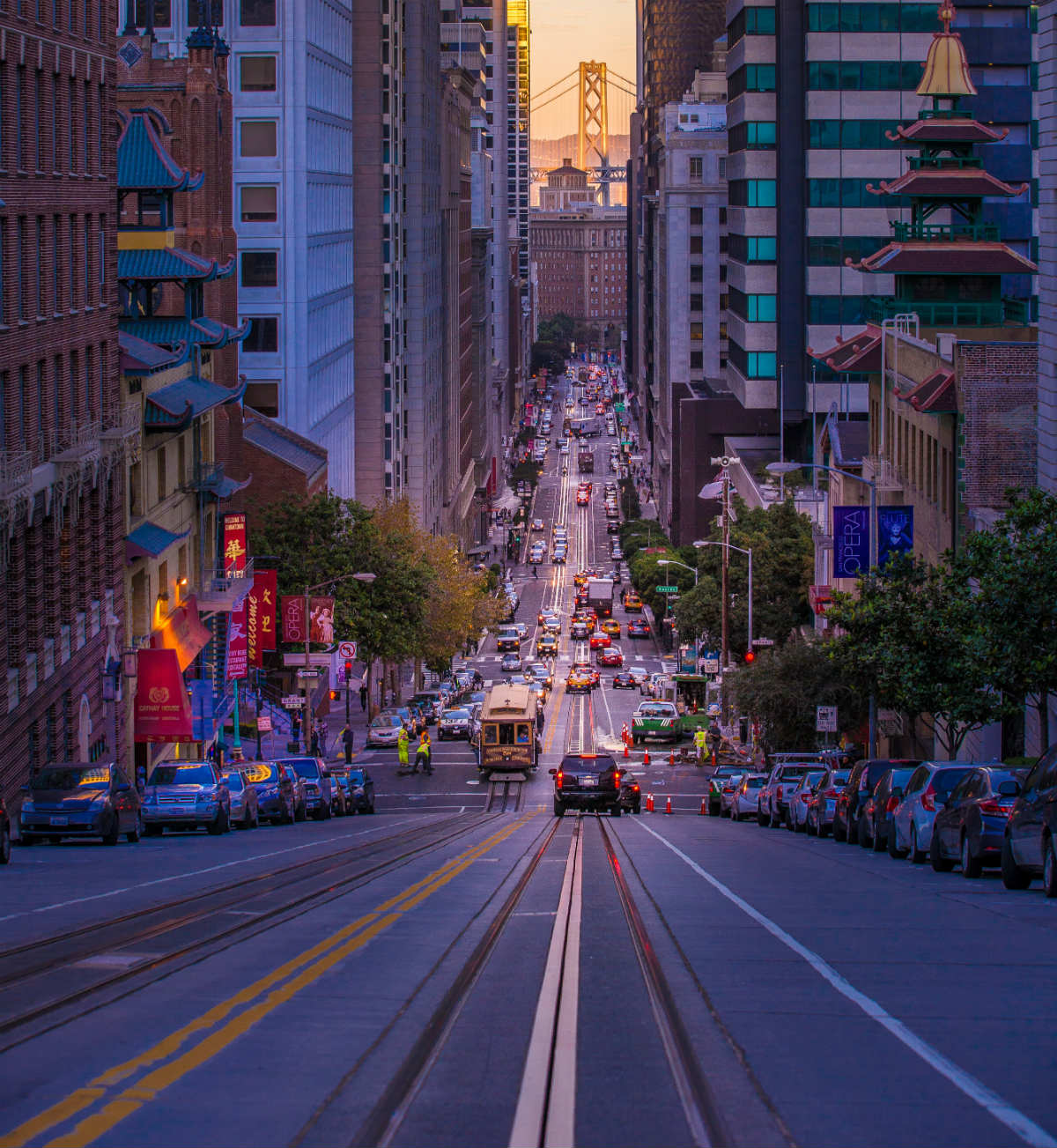 Moving to San Francisco can be intimidating, daunting, and downright challenging. Between the scramble to scale craigslist and every rental website in its entirety, to searching maps to figure out "where is Russian Hill?," finding a place that is right for you can be tough. Add seemingly endless diverse neighborhoods to pick from, and suddenly you feel like you are fighting an uphill (maybe quite literally in SF!) battle. We've put together a non-exhaustive list of San Francisco neighborhoods to make your job a little easier. When you're ready to make the move and you need San Francisco moving boxes to pack all your belongings, place an order to rent moving boxes at ZippGo. We'll bring em' right to your door anywhere in the San Francisco Bay Area.
North Beach

North Beach is the closest livable area to the Financial District, making it incredibly easy for Muni commuters or walking to work. You'll find a cross of true old San Francisco- powerful and wealthy Italian families, gelato, some of the best pizza on earth (or at least the west coast), and a delightful array of delicatessens (try Molinari's) and bakeries-which attract a slough of tourists and visitors. Make a dash on Grant Street for quick routes to China town easy access to Coit tower. Take the steps of Telegraph Hill to the embarcadero while viewing city dwelling parrots, amazing architecture, and darling gardens amongst the steep hills. The neighborhood is filled with little Italy charm but be careful, as it's a little grimy underneath all the glamour-many of the cities finest strip club establishments are also housed here. Many apartments will be discovered in wonder, in many cases you'll wind your way through passages, alleys, and old Victorians and ask yourself, "how did this apartment come to be broken up this way?" If funky, and a little out of the ordinary is what you are seeking in both people and place, this may be a fit.
Financial District

Fi-di is only awake during business hours-during the day it's a hubbub of eateries, salad bars, coffee shops, and a vast array of retail services, and is an urban delight. Imagine any beverage, shake, cocktail- you can find it in this area of the city. But since the Financial District is home to many of the global banks which were founded during the Gold Rush era, by evening the area is empty and nearly eerily empty. The Embarcadero Center has a number of shops in an outdoor setting for those who like to window shop along with the occasional purchase. If you do find an apartment among the concrete jungle here, you'll find expensive parking, meals and rent and difficulty finding open businesses on weekends. Lofts, condos, and high-rises are the way to go in the neighborhood. One of the largest apartment complexes is The Gateway, on corner of Jackson and Battery St just above a Safeway grocery store. The higher units in this building offer amazing sweeping views of the Bay and downtown San Francisco. If a doorman, convenience to your down town job and interest in leaving the neighborhood on weekends describes you, consider this area- you'll fit right in with the other young working professionals nearby.
Nob Hill/Russian Hill
One word- hilly. Really, its very hilly- from all sides.  But, if you can get over the hills, you'll have an incredibly walk ability to Fi-di, Chinatown, Union Square, Polk Street, Union Street and Fisherman's wharf. The area can feel quiet, and more sleepy than other areas; homes and apartments will surely be nice, but some of the most expensive in the city. If you want a little privacy, don't move near Russian Hill's most popular attraction, Lombard St. A.K.A "The crookedest street in the world".  You'll find tourists (and some locals) driving down this road almost 24 hours a day. The 1 California bus is amazing to get downtown or to the Richmond from these areas- people who live and use this line love their life.
Fisherman's Wharf

While you may find a place here, you'll find that unless you are hosting out of town guests the neighborhood will soon lose its charm.  It has fantastic bay views, in many cases sightlines of both the Bay and Golden Gate Bridges, aquariums and museums, however, it's incredibly tourist oriented and doesn't carry the same charisma as some areas of the city. If San Francisco's quirky one room dining establishments, funky old storefronts, or huge hills intimidate you, the wharf will provide you with familiar American chain restaurants, shops and grocery stores like Safeway and Trader Joes and a flat surface to view the waterfront. One gem not to miss in this area is the historical, Buena Vista restaurant.  On a cold San Francisco night, take someone you love and order up some Irish coffee.
South Beach

Round the bend of the Embarcadero, and head towards AT&T park, you'll find an array of new, modern and urban high-rises and apartments. Its one of the few places in the city that you will find new luxury apartments.  Only steps away from the Embarcadero where you will find people sunbathing on the grassy areas, runners and bikers, and restaurants like Epic Roast House and Waterbar which are right on the water. Don't forget to check out breweries- like 21st amendment for unique IPA's or even a Watermelon beer, or try Momo's for a martini.   There's easy access to transportation, and the area becomes great fun when amassed with a sea of World Series winning San Francisco Giants fans. If you have the money to spend you'll find its quite central to getting to work, is generally pretty safe, has great views and a very up and coming feel.
SOMA

While clearly providing and urban vibe, Soma can be hit or miss. You'll find furniture stores, warehouses, and good access to the freeway and occasionally a gem of an apartment, but overall Soma does not give off a quintessential SF neighborhood feeling and can be slightly less safe than other areas. One of the hidden gems of this area called South Park.  Its so hidden, even some San Francisco locals drive by it everyday without being aware of its existence.  True to the name, there is in fact a South Park complete with grassy area, swing set, and cute restaurants like 'The Butler and the Chef' to boot.While perusing rental listings, there are always plenty in Soma, especially lofts and interesting workspaces. If metropolitan, inner-city living is suitable for you, you'll discover reasonable rents and large spaces here.
Tenderloin

Eeek- the loin! While its has its "have eyes behind your back" areas, its not as scary as some might think, and by far and away the most affordable area in SF. Its centrally located, has easy Muni access, great food, and cheap cheap for the city- but obviously its hardcore urban living, and rough around the edges. If you're an employee of Twitter or Zendesk and want to be real close to work, you've hit the jackpot. These companies are part of a new project by San Francisco mayor Ed Lee to transform the tenderloin area into an up and coming part of the city. Try the Little Saigon area for housing in the TL, but slightly off the beaten path; once you're there try Thai House express or Les Ros for some great Asian eats.
Mission District

Every one who ever lived or ever came to San Francisco wants to live in the Mission. It's full of nightlife, sun, tons of 20 something's everywhere, lots and lots of hipsters, shops, bars and restaurants. Mission Street presents a diverse mix of characters who mingle among the taquerias, discount grocers and dollar stores, and fill the busy streets. Off the grungy drag you'll find classic gingerbread style Victorians, hilly streets, and tree lined sidewalks.  During San Francisco's warmer months of August and September, nearby Dolores Park is filled to the brim with sunbathers enjoying the rare warmth along with Salted Caramel ice cream from the Bi-Rite Creamery. Its likely more affordable than some SF neighborhoods, and an easy commute on either Bart or Muni to many sections of the city. If you are fresh out of college, wearing skinny jeans or riding a fixie bicycle- choose this neighborhood.
Marina/ Cow Hollow

This area backs up on the Broadway Street's epic "Billionaires Row." Named this because of the truly remarkable homes, it also showcases expansive bay views, and easy commutes to the downtown or outer areas of the city. The Cow Hollow neighborhood is filled with boutiques, restaurants and bars, as is the Chestnut Street area in the Marina. Some of our favorites include Tacolicious, Blackwood, Delarosa, Bin 38, Horseshoe Tavern, and Cafe GoLo. You'll find lots of young people, but not hipsters- filling the streets following yoga or leaving the bar after a football game. The green grassy areas of Chrissy Field are always close by if you want to hav a picnic with friends, go for run along the water, or just play fetch with Rover. Rents will not be cheap, but you can find apartments and homes with character, parking spaces, views, full kitchens and multiple bedrooms. Its also a great option if you work or play frequently in the North Bay- since the Golden Gate Bridge and all it offers is just a hop away.
NOPA/Alamo Square/Hayes Valley

Remember Full House, and the Painted Ladies Victorian Houses- those are found in Alamo Square. This region of the city feels like a neighborhood- with access to parks, small corner stores and coffee shops, it will feel cozy and accessible at the same time. Try the Green Chile Kitchen in NOPA for creative New Mexican Style cooking, or its sister restaurant Chile Pies for a Frito pie. When seeking a home you're apt to find beautiful, intricate Victorians, likely cute up to apartments or left as huge 4-8 bedroom monstrosities.
Haight Ashbury

Think hippies, and funk. The Haight Ashbury area was the epicenter of the "Summer Love" and hippie subculture in 1967. This area features historic Victorians, both cut up into apartments and preserved as single-family homes. Haight Street remains a mecca of smoke shops, tie-dye and organic vegetables, and can be filled with vagabonds and tourists. But walk slightly off the track and you'll discover Cole Valley, Ashbury Heights, and Diamond Heights. These areas all offer amazing views albeit fogged in at times, lovely winding streets, hills, nearby parks, and families are frequently spotted with dogs and shopping parcels. Try venturing into Cole Valley, and try brunch at Zazie for a delightful French dining experience.
Inner Richmond

You get a lot of bang for your buck when moving to this area. Its neighborhoody, and doesn't feel too urban, but offers tons of services like grocery stores, post offices, furniture retailers and sandwich shops- regular life things that make it easy to live there. There are more restaurants than one can count, and Muni options are readily available. And, houses are often quite large and more reasonable because its slightly out of the city center.
Outer places

Outer Sunset, SFSU Area, Park Merced, Outer Richmond, Ocean Beach: These can be far away and a long commute downtown. Its often chilly and foggy, but has a laid back vibe and is quiet at night. It's a great option for SFSU staff and students, those who work in the South Bay, if you are a regular beach walker or the hardcore surfer.  Otherwise, venture here on weekends, when you need a cold fix, or an adventure. You can find cheap apartments in massive complexes filled with amenities in the Park Merced area, or mansions in the Seacliff area above Ocean Beach. Either way, you'll be sure to have an easy approach to the ocean, and more space than much of the city affords.
Now-visit your potential neighborhoods, take a look around- the best way to make sure you feel safe and at home is to simply walk around. Maybe even pull out your iPhone and make sure you still feel comfortable blatantly walking around with it. Then grab your credit report, rental references, order some ZippGo boxes, and compile your life's savings, you are ready for the wizardry that is finding a place to live in San Francisco- best of luck.