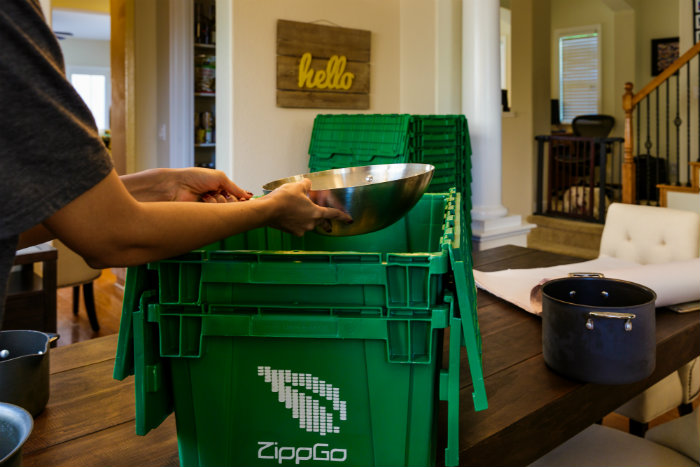 When you are standing face to face with an upcoming move, the first question that tends to arise is whether you should move yourself or hire a moving company. Moving, much like painting, can seem like a theoretically beneficial and fiscally conservative idea, but in practice it tends to be a bigger hassle and time consumer than you anticipated.
Below are some considerations to bear in mind when you set out to make the decision:
Effort and Manpower
Has anyone ever asked you to help them move in exchange for pizza? Were you ever happy about it? The answer to the latter is most assuredly and emphatic "no". No one is ever happy about moving or helping someone else move. It is exhausting, physically demanding, and if your friend is watching over you, chances are they're barking orders at you for packing something far from their personal specifications—the specifications they failed to lay out prior to the day beginning. That said, if you are thinking of moving yourself and were entertaining the idea of bribing your friends with pizza in the same fashion, think back to how you felt. The manpower you receive will be mediocre at best and it will be a power struggle in the moment when all involved parties think they know the "best way" to get the jammed couch angled just right so it goes down the stairs. Additionally, lifting heavy things while bending in odd ways could result in injury since your friends probably won't have any of the equipment/tools that movers have and also aren't likely versed in the proper way to carry a sofa down two flights of stairs.
Conversely, with a moving company, the people who arrive are not your friends (though they should be friendly). They are employees hired for a job and that brings with it a years of experience, greater work ethic, and a lot more effort. Professional movers are highly qualified and possess the physical prowess necessary to finagle an unwieldy object through any maze of stairs, elevators, tight corners, and ramps. Good movers won't want to waste their time or yours, and they will make all of the necessary preparations and procedures as fast and simple as possible.
Equipment Needed
When you opt to move yourself, you need a great deal of equipment. In addition to the standard moving supplies, it will behoove you to rent a dolly, some lifting straps for those heavier items, and possibly a few other safety items like back braces. Moving large furniture, unwieldy objects like pianos, or heavy boxes full of books can be a physically taxing event even if done right. That said, if it is done wrong, you could cause serious damage to yourself and your goods.
Professional movers are familiar with the proper lifting and loading techniques to reduce stress on the joints and the back. They are specially trained to use proper safety techniques for all moving situations, even for those unwieldy objects. In addition, movers will bring the proper equipment with them so you don't have to go out of your way to rent it. They can properly wrap heavy furniture so as to protect it from damage and move it into the moving truck with ease. In many cases, items like pianos or large antique furniture can be more safely moved by professional movers who have the skills and equipment for just that job than you would be able to do with willpower and some bubble wrap.
The Expense
Most people decide to move by themselves to save money. The expenses associated with moving yourself seem lower at first, especially if you can find cheap moving boxes and rent a moving truck per hour. Of course that also means you have to be responsible for setting aside the time it will require, having the proper insurance from the moving truck rental service, and you will have to maneuver a large vehicle through the curvy, somehow always uphill streets that are San Francisco. Also watch out for those high per mile charges from your rental truck because they add up fast! If you are able to find used boxes from a grocery store, or purchase in bulk from an online supplier, your supply costs might seem lower compared to the material fee added to your professional moving bill. If you can pack your items yourself and just hire movers to transport the boxes onto and off of the moving truck, you can cut down the number of hours you are billed.
On the other hand, professional movers do not have to break the bank. Those companies which offer moving sets, inclusive of supplies and manpower, often come at a cheaper rate than buying supplies yourself and then finding people to help. Some of the best San Francisco moving companies advise their clients to rent plastic moving boxes from ZippGo to cut down on their material costs and to reduce the overall amount of time the move takes.
But Is It Effective?
When you move on your own, you may face the mid-move trials of discovering you didn't get a San Francisco moving permit and your moving truck is now parked illegally, earning you an expensive ticket by SFPD. You might fail to obtain the right padding and tape to pad the inside of your buildings' elevators potentially resulting in damage to your building. You might not realize that you have to prop the front door open and nothing is quite as strong a buzzkill as finally getting that heavy desk downstairs only to realize the door is shut and you can't buzz it open from the lobby.
Part of the effectiveness built into the expense of hiring a moving company is their preparation. If you live in an apartment building, they will work with the building to ensure all elevators and doors are properly padded during the move. They will make sure the moving truck is properly parked and ensure you or them is responsible for obtaining the moving permit from the city. They will have the right insurance agreement drawn up to protect your goods.
Supplies
Either way, having the right supplies is imperative to a successful move. If you opt to move yourself, or if you decide to hire professional movers, either way rent plastic moving boxes instead of buying cardboard boxes. These boxes are not only a fiscally responsible move, they are an environmentally responsible one. The boxes rented out by ZippGo are made from water-proof plastic so they will hold up under the harshest rain, wind, or sleet which make them far better than paying for flimsy cardboard boxes. You can rent plastic moving boxes from ZippGo in the Bay Area with free delivery to your door in San Francisco, Oakland, San Jose, and more than 60 other cities.
ZippGo's moving boxes arrive at your door assembled, so all you or the movers have to do is open the attached lid, place all your belongings inside, and snap the two piece integrated lid back into place. The boxes neatly stack on top one another in the moving truck to mitigate the risk of damage and to make the most efficient use of the space.