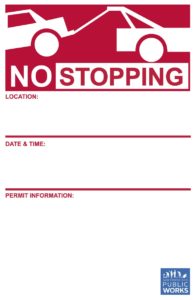 *** Updated for January 2018*** Are you planning a San Francisco move either within the city or perhaps a move from or to San Francisco? Either way, you're probably going to need a San Francisco Moving Permit to park a moving truck on the street. Most people believe the San Francisco moving company they use will get the moving permit, but mistakenly this is not true. It's up to you to apply and pay for a San Francisco moving permit if there is limited parking outside your house, apartment, or condo high rise. While very few moving companies will help in the moving permit application process, they will let you know the size of their moving truck and how many spaces they will require.
The San Francisco Municipal Transit Authority (SFMTA) requires you to apply for a San Francisco moving permit and once approved, purchase it. The moving permit application process must be started at least 5 days before the actual move date otherwise you may not receive the moving permit in time for your move. If you have already taken a look at the San Francisco Municipal Authority's instructions on how to get the moving permit on their website, you know it reads like hieroglyphics which is the reason we wrote this blog post.
What the permit does is that it will reserve a parking space on the street for your truck or the moving company's truck. Any vehicle that is parked within these parking spaces with the permits posted around the spaces as "No Parking" will get towed away to clear up spaces for you or your moving company.  The SFMTA states that the moving permit space can only be used for a moving truck and cannot be used to park a personal vehicle
Moving Boxes Before The Moving Permit
Before we tell you the step by step method to getting your San Francisco Moving Permit, we want to make sure you know where to get your moving boxes. If you're moving from, to, or within San Francisco moving boxes from ZippGo are the only way to pack your belongings. ZippGo rents plastic moving boxes and delivers them right to your door. ZippGo boxes are better than cardboard boxes in every way. They are cheaper with prices starting at just $79 including free delivery, they never need tape because they have attached integrated locking lids, and they are delivered right to your door so you don't need to buy, build, or hunt down cardboard moving boxes.  Order your green moving boxes today with free next day delivery (depending on date availability).
How Much Does The Moving Permit Cost?
The base cost of your San Francisco moving permit is determined by measurements in "feet" around the parking spaces. In this case, it will be the measurements that include the number of parking spaces needed, which is 3 to 4 depending on what the moving company's description requires on their website.
The price is also determined by extra "per meter" per day cost. As of 2016-2017, you are looking at an additional cost of $10 per meter and per operational (business) day cost.
If you are moving within San Francisco, you will need a total of two moving permits. One for your current home and a separate permit for the new home you are moving to.
Below are the current SFMTA prices to apply for and purchase a San Francisco moving permit:
FEES EFFECTIVE AS OF JULY 1, 2017
| | | |
| --- | --- | --- |
| Number of Signs | Number of Feet Posted | Fiscal Year 2016-2017 Fee |
| 1 – 4 | 1 – 120 | $262 |
| 5 – 9 | 121 – 270 | $349 |
| 10 – 15 | 271 – 450 | $437 |
| 16 – 21 | 451 – 630 | $520 |
| 22 – 28 | 631 – 840 | $610 |
| 29 – 35 | 841 – 1050 | $699 |
| 36 – 43 | 1051 – 1290 | $786 |
| 44 – 51 | 1291 – 1530 | $874 |
| 52 or more signs | 1531+ | $874 plus $14 for each additional sign |
PLEASE NOTE: An additional $11 per meter, per meter operational day will be charged on top of SFMTA fees as listed above for metered areas."
The forms of payment SFMTA accepts and does not accept are listed below:
Accepted forms of payment:
"will accept credit cards (Visa, MasterCard and Discover), cashier's and company checks, and money orders, all checks should be made payable to SFMTA – TEMPORARY SIGN."
Unacceptable forms of payments:
"personal checks and American Express are not accepted for payment at this time."
Your Moving Permit Cannot Be Used For the Following:
Before we talk about the application process, we want to make sure that you are fully aware of the prohibited usage of the moving permit.
The moving permit can only be used for commercial and residential moves, corporate events, and funerals.
It cannot be used for reserved parking spaces for guest, parties, ceremonies, or any fundraisers. If someone parks in one of your designated spots, their car will be towed as they are not authorized to park there. For a more detailed list of accepted and unaccepted uses of the moving permit, head on over to the SFMTA website.
Now that you know the costs of getting these moving permits and what are the intended use, let's go on to how you can get one of these permits.
The Process To Get The Moving Permit
While San Francisco is one of the most beautiful and diverse metropolitan cities in the world, applying for a moving permit can temporarily put a damper on your enthusiasm.
The reason why it's so frustrating is the fact that it requires you to understand the time between applying and the time of enforcement (when the permit is active).
On the SFMTA website is stating that you must allow a minimum of 5 business days between the date of enforcement and the date of application to process a new request.
If you apply on days closer to weekends or the holidays it may take even longer to process. So it could end up taking you as long as 10 days depending on how fast they process your moving permit application.
You moving permit request can be no earlier than 7:00 A.M and no later than 10:00 P.M. While not always feasible, we suggest planning your move date in advance so you can get your moving company appointment confirmed and then have enough time to receive your moving permit.
How to Apply for the Permit
There are two way to apply for a San Francisco moving permit. You can either do it by calling the SFMTA at (415) 701-2311 or by applying in person at SFMTA Temporary Sign office located at:
SFMTA Temporary Sign
1508 Bancroft Ave.
San Francisco, CA 94124
You can also contact them through email: [email protected]
Their office hours are Monday through Friday from 7:00am to 3:30pm
The main information requested by the application will be your home address, the number of parking spaces needed (ask your moving company), and the day you want to reserve the parking spaces. Once you receive your moving permit, it's important to post it before the move date to alert nearby visitors of the date and to prevent people from parking in those spots the night before your move date.
There are two time requirements by the SFMTA for posting once you have received the permits.
"For unmetered areas, "No Parking" signs must be posted no less than seventy-two (72) hours prior to the enforcement start time."
And
"For metered spaces, "No Parking" signs must be posted no less than twenty-four (24) hours prior to the enforcement start time."