MOVING BOXES
SUNNYVALE

FREE DELIVERY
ZippGo Plastic Moving Boxes are the Preferred Way to Move in Sunnyvale
You might have found this page after searching 'moving boxes Sunnyvale' and you've come to the right place. ZippGo rents plastic moving boxes to Sunnyvale residents along with free delivery. With prices starting at just $69 including free delivery, cardboard moving boxes just can't compete.
We've made it super easy to get moving boxes Sunnyvale homeowners or renters can order in a jiffy. It takes just a few minutes to place you order on our website. Pick your desired delivery date and time and we'll show up at your door with our green moving boxes. Since our durable and easy to use boxes don't need any assembly, you can't start packing immediately. They never need any tape and have attached integrated lids which snap shut with ease so your belongings are well protected.
Laura S in Sunnyvale had this to say in her 5 Star Review on the ZippGo Yelp Page:

"I absolutely loved using ZippGo and would highly recommend if you are looking to move and want to pack without the hassle of cardboard"
---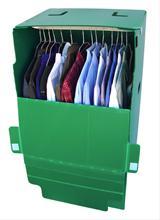 ---
Why Rent
Moving Boxes SUNNYVALE
Better Than Cardboard Boxes
With the innovation that taken place in the last 100 years, its shocking that anyone still uses cardboard boxes to pack up their belongings to pack and move. Cardboard boxes are made from paper, require assembly, need to be taped to stay together, are not resistant to being ripped or torn, don't hold up well in bad weather, and can be crushed when heavy weight is placed on top of the box. ZippGo has created a far superior solution for moving boxes Sunnyvale residents can use to pack up all their belongings. ZippGo's plastic moving boxes are tear proof, crush proof, and perfect when moving in bad weather. They are made from durable HDPE recycled plastic so they can withstand lots of abuse during transport while still protecting your personal effects inside. Plus since the boxes uniform in size your Sunnyvale moving company will load them in and out of the moving truck much faster, saving you some serious money on that expensive hourly rate they charge.
Moving Supplies Delivered Too
We know when people are relocating in Sunnyvale moving boxes aren't the only thing they'll need to pack up all their worldly belongings. ZippGo will also deliver green moving supplies Sunnyvale residents will find vital during packing like packing paper to protect your kitchen items like glasses, plates, and bowls. We also carry Green Wrap which is like bubble wrap but its unique in that its made from paper instead of plastic. Its way better for the environment because it can be recycled with your other paper. You've probably got a number of jacket, dresses, and shirt hanging in your Sunnyvale closet which you don't want to take off the hanger and put in a moving box. We have plastic wardrobe boxes just for these items. Pack your closet in just minutes. Also our lifting straps can be rented so you and a partner can move heavy items like a mattress, dishwasher, or really large items with ease.
Moving Items You're Searching:
Boxes for Moving Sunnyvale
Packing Boxes Sunnyvale
Dish Boxes Sunnyvale
Free Moving Boxes Sunnyvale
Cheap Moving Boxes Sunnyvale
Used Moving Boxes Sunnyvale
Buy Moving Boxes Sunnyvale
Discount Moving Boxes Sunnyvale
Cardboard Moving Boxes Sunnyvale
Residential and Office Delivery of:
Plastic Moving Boxes Large Size
Book Size Moving Boxes
Moving Crates Extra Large
Plastic Wardrobe Boxes
Packing Paper
GreenWrap Bubble Wrap
Lifting Straps
Moving Dollies
---
SUNNYVALE RECYCLING

RESOURCES
SMaRT Station Sunnyvale Recycling
The city of Sunnyvale has a great recycling program for the residents of Sunnyvale, but also accepts from nearby cities of Mountain View and Palo Alto. They will taken Aluminum, tin, steel, used clothing and shoes, cardboard moving boxes, electronics, fluorescent bulbs and tubes, paint, and even cooking oil. They will recycle almost everything under the sun which is pretty awesome. You can call them at (408) 730-7500 or drop off at their facility located at 456 W. Olive Ave. Sunnyvale, CA 94086. You can also check out their website for more details on all the items they accept for recycling: SMaRT Station
---
Green E-Waste Recycling
If you're moving within Sunnyvale, call these guys to pickup the electronic items you want to recycle. They will take about anything except light bulbs, alkaline batteries, smoke detectors, mercury filled thermostats, and VHS tapes. They've been helping Sunnyvale residents recycled electronics since 2004. You can call them at (408) 287-3292 or go to their facility located at 2127 Monterey Hwy, San Jose, CA 95112. You can also visit their website at: www.gerecycle.com