MOVING BOXES
MOUNTAIN VIEW

FREE DELIVERY
If you're in Mountain View Moving Boxes Rented from ZippGo are the only way to pack and move.
Moving is one of life's most stressful events, but it doesn't have to be. If you live in Mountain View moving boxes from ZippGo will take the stress out of your move. Place your order on our website or call and speak to one of our customer service staff and you can generally get your moving supplies delivered right away. Sometimes within 24 hours. Skip the hassle of driving to a store, paying high cardboard box prices, struggle to fit the flat boxes in your vehicle, and then deal with awkwardly trying to carry them into your home. ZippGo's courteous and expert delivery staff will bring our innovative, cool green, and ready to be packed plastic boxes right to your door. You can start packing the moment they arrive saving you the one thing you can't buy or get back, your time!
In a Yelp review for ZippGo, Allison N, a Mountain View customer, said this about ZippGo's Moving Crates : "They are worth their weight in gold. They make moving so much easier."
---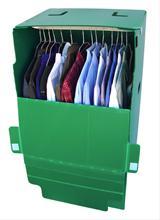 ---
Eliminate Cardboard
Moving Boxes MOUNTAIN VIEW
Save Time & Money
ZippGo is a green moving solution because unlike cardboard moving boxes, each of our plastic moving boxes can be reused more than 1000 times over their lifetime. We understand being green is important to Mountain View residents, but so is saving time and money. Time is a precious resource and ZippGo saves you time by offering an easy ordering process for our Mountain View moving boxes and then providing FREE delivery right to your door. Our boxes come pre-assembled ready to pack saving you hours of building boxes and a taping nightmare. Our packages start at just $69 for enough ZippGo moving boxes to pack a 1 bedroom home. This comes out to just over $2.25 a box and include the boxes, a moving dolly, box labels, cable ties, and free delivery and pickup to your door. Cardboard can't touch this! Check out the short video we made with ZippGo's plastic moving boxes versus cardboard moving boxes.
Industrial Strength at Home
Your belongings are valuable, and when you are moving in Mountain View you shouldn't take any chances by packing in cardboard moving boxes. We have found that when using cardboard moving boxes Mountain View residents often find ripped, damaged, and broken items once they unpack their boxes at their new home. Since ZippGo's boxes are made from 100% recycled industrial plastic they are tear proof, crush proof, and water proof. The bottom will NOT fall out on your Mountain View moving boxes from ZippGo, so pack our boxes without worry. If on your moving day there is a storm and there is heavy rainfall your belongings will be safe and all your important paper documents will stay dry. The same can't be said if you are using cardboard moving boxes instead.
Book Buyers
Book Buyers is one of the largest book stores for out of print and used books in Mountain View. After completing your move, your going to unpack your Mountain View moving boxes and discover you've either read many of your books too many times and its time to let other people read the books you love. Your best best is to bring them to Book Buyers and help them find a new home. You can visit the Mountain View location of Book Buyers at 317 Castro Street Mountain View, CA 94041. You can call them at (650) 968-7323 or visit their website at: www.bookbuyers.com
---
Recology Recycling Mountain View
When you move in Mountain View you'll probably find a graveyard of old electronics which you no longer have a use for. Don't throw these away as they are highly toxic to the environment and can be recycled at Recology. You can visit their Mountain View Recycling Center at 935 Terra Bella Ave, Mountain View, CA 94043. You can call them at (650) 967-3034 or visit their website at: www.recologymountainview.com