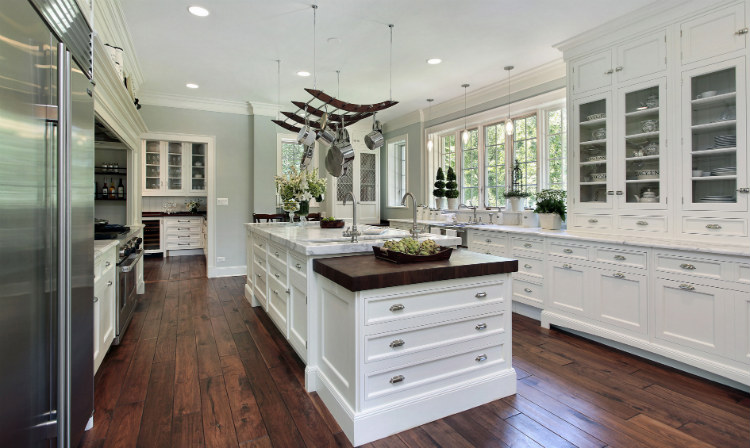 Part of being a homeowner is making sure that your house stays up-to-date and can handle the day-to-day activities of your life. Over time, common areas of the house such as the kitchen will undergo wear and tear, and appliances as well as cupboards and other items will be replaced. If you have a growing family, you may find that the kitchen that once worked well for your family of two is no longer functional for your family of five. Or perhaps you purchased an older house with the intention of fixing up various rooms over time. Whatever the reason, chances are you will need to remodel your kitchen at some point, but getting started can seem overwhelming. We have compiled some helpful tips to help you prepare for your kitchen remodel to make the task less daunting and maybe even fun.
Hire An Interior Designer
If you want your new kitchen to be an investment that you will enjoy for many years to come, it can be a wonderful decision to bring a professional into the process to help generate ideas and make sure that you get exactly what you want. Interior designers have a great eye for detail that many people don't, and can offer creative and unique solutions for things like storage problems or small spaces. If you don't feel comfortable spending the extra money to hire an interior designer or its just not in your budget, consider using resources such as Houzz, which is an online platform that brings together home professionals with homeowners. There are thousands of photos and links to design ideas and professionals in your area available on Houzz, all of which can be browsed for free. You can also consider enlisting a close friend or family member who has recently gone through the same process, or has a knack for interior design. Sometimes hiring interior design students can be a way to save money, as interior design students would love to get first-hand experience and might be able to help you for a low rate or even for free.
Do Your Research
Once you have decided what exactly you plan to do in the kitchen, it is time to find the best possible contractors to do your work. This will involve a bit of research on your part, but luckily, the internet makes it extremely easy to find reviews and what people are saying about the experience they had with the companies you are considering. It might be tempting to go with the contractor that offers the lowest price, but this could be a huge mistake in the long run. If you are investing time and money into your kitchen renovation, you want to make sure that it is completed correctly by a company that truly cares about their customers and wants to ensure that their work is of the highest quality. It is definitely worth spending a little extra money to make sure your counters are installed correctly and that your floors are even!
DIY As Much As You Can
If you have any handy skills whatsoever, consider doing some of the work yourself, if time allows for it. You can save thousands of dollars by doing simple portions of your renovation yourself, and leaving the difficult projects to the professionals. Maybe you have a friend or relative who is a painter or electrician that could help out with the process. Just make sure you pay them in the form of food, a favor, or even money for their hard work.
Plan Ahead
Your kitchen might look like a war zone during your renovation, and will not be usable for your family. This means you will need to plan ahead and find a different location to prepare and eat your meals. Depending on the scope of your remodel, this could be a very simple or very difficult task. For many remodels, you will still be able to use your refrigerator while the work is being done, so you won't have to worry about keeping your food cold. However, you might not have access to your stove or oven (or perhaps you temporarily no longer have one!) which means that you will be relying on a microwave or takeout a great deal. Find a room that will be your temporary kitchen space (make sure it is a safe place for electric items – no hanging curtains or things that could easily catch fire) and move your microwave, toaster, and anything else you use on a daily basis into that room. If you have access to your sink or dishwasher, you can keep out a set of dishes to use. Otherwise, you may have to wash your dishes in the bathroom, or resort to paper plates and plastic silverware temporarily. It is a good idea to budget an extra amount of money for eating out while your renovation is taking place.
Rent Plastic Moving Boxes
While your renovation is underway, you will need to move everything out of your kitchen and store it somewhere safe, sometimes for as long as a few months, if you have a large renovation project. It is very important to protect your items during this time, especially if you have contractors and other professionals coming in and out of your home on a daily basis. ZippGo offers plastic moving boxes that are perfect for both short-term and long-term storage, as they are made of durable, eco-friendly plastic rather than the flimsy cardboard that people often use. During the renovation process, your kitchen and other areas of your home might be exposed to extra moisture, dust, debris, and even bugs or rodents that take the opportunity to sneak inside an open door. Typical cardboard boxes cannot withstand the elements as well as the rented plastic boxes from ZippGo can, which means that your kitchen items, including food and dishes, could be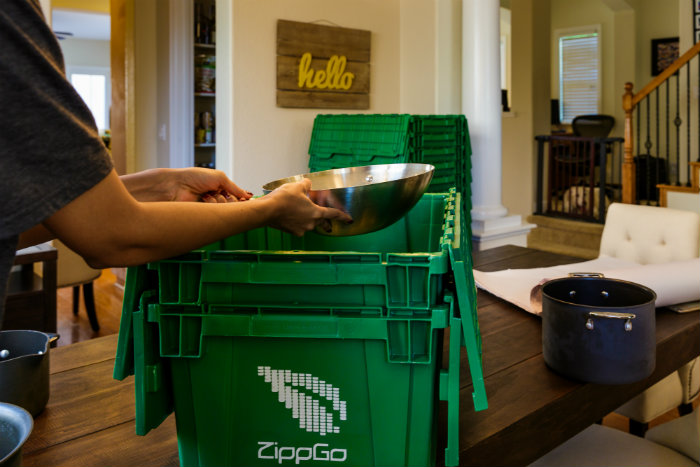 susceptible to contamination during your renovation. Protecting your items during your renovation should not be an extra stressor for you to worry about, which is why ZippGo offers discounted monthly pricing for remodels that will take longer than one month to complete. We've rented to so many home owners in the San Francisco Bay Area who are remodeling their kitchen or their entire house. They love the convenience of our boxes being delivered and how secure their belongings are in our plastic crates. Call ZippGo at 800-723-7017 to get more information on our discounted pricing for extended monthly rentals.