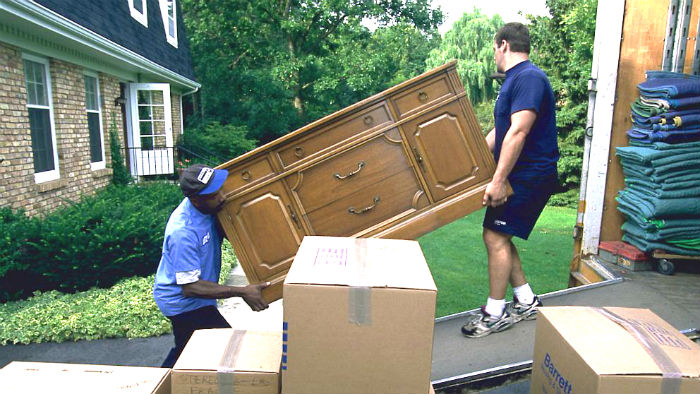 The cost of hiring a professional moving company in San Francisco will vary based on the distance to your new home, the total weight of your items, and whether you use recyclable moving materials or not.
Most SF Movers will let you know their hourly rate and then will multiply this by the number of hours the total job ends up taking. It's in your best interest to ask the moving company to come to your home to provide a free estimate.  This will give them a much better idea of how long the job will take and then they can provide you a "Not To Exceed" quote. This will give you a max on how much you will end up paying so there won't be any surprises. There are also some San Francisco moving companies who will provide a flat rate. After getting quotes you'll find that most of the SF moving companies have an hourly rate between $100 – $120 per hour for two movers, $160 – $180 per hour for three movers, and $200 – $240 per hour for four movers.
The hourly billing time begins as soon as their moving truck arrives at your current home and ends as soon as your household goods are moved into the new home. The fees often include Double Drive Time charges as required by the CPUC, with a minimum 3-hour charge and fuel fees at $15-$25. It is important to note that the farther the distance your new location is from your original location, the higher the Double Drive Time charge will be. Additional costs are added to your bill for moving supplies such as packing paper and bubble wrap used by the company. If you decide to purchase cardboard moving boxes and packing supplies from the moving company itself, you may find the prices are much higher than if you bought them or rented moving boxes on your own. Moving companies charge different prices for a handful of reasons:
Quality of Movers
The different movers you hire may have different levels of qualifications. While it may seem trivial, hiring someone who has the technical expertise coupled with comprehensive understand of transit laws and remedial physics can make all the difference when your delicate and fragile goods are being packed with something heavier.
Carrying Insurance and Permits
Each company is supposed to have insurance. With that comes the security that should anything with your shipment go wrong, the professionals you hired will have the means to get back compensation for the value of what was lost. This is particularly important in an area where you have no control over the weather, crime rates, natural disasters, and other risks. While the statistical likelihood of it happening might be low, it is always—as they say—better to be safe than sorry. So if you are reviewing companies side by side and one lacks insurance, chances are they are not an official moving with proper registration; who knows how many other corners they have cut.
Standard Move vs. Full-Service Move
When you hire a moving company you can opt for full service which means the movers will pack your belongings, move them, and then unpack them at your new home. According to San Francisco Bay Area moving companies we spoke with, roughly about 10% of clients opt for a full-service move. Movers generally have a lower hourly rate for the packing portion of the move and generally have specialized employees who are specifically skilled at packing boxes and organizing. The majority of people moving, in an effort to save money, opt to pack their household goods on their own, only paying an hourly rate for the movers to load, transport, and unload the goods. Keep in mind that whether you hire the moving company for a full-service move or a standard move, you'll need to factor in the cost of tipping San Francisco movers.
Fuel
Some moving companies also have a fuel charge. Obviously, if you have a long way to travel, it will cost more for the fuel compared to someone moving two blocks over. Ask your moving company to let you know in advance if they have a fuel surcharge.
Storage
If you need to store your items you will have an additional storage fee. If you are unable to receive the shipment at your new home the day it arrives, you may need to find a company with warehouse facilities dedicated to short-term storage. In such cases, your goods can be stored temporarily until the day you are able to arrange for a drop-off. Of course, included in this additional service is the additional cost to and from the storage facility or warehouse. This is something to keep in mind when you set up your moving dates.
Price v. Quality
Some moving companies charge significantly less than the average company. This is not as good a sign as you might think. In these cases, the adage that you get what you pay for is quite true. And beyond that, it is also a sign that the company is illegitimate, lacking the appropriate permits and insurance required by the state. Low price movers without insurance may turn around and sue you in the event that damage is inflicted on their employees or goods while moving yours. If someone breaks company property trying to access your new home, or an employee is insured en route, the company might pursue legal action… against you! And what's more, if there is damage to your household goods, no insurance means no legal support on which to substantiate your claim.
Keeping Costs Down
All moving companies strive to make a profit while keeping the costs incurred by customers reasonable. Avoid any moving companies that appear to cut corners to achieve profitability.
Good companies will work hard to keep moving costs down by working with providers of rented plastic moving boxes and reusable plastic wardrobe boxes. With plastic moving boxes, you can save between 35-50% on the overall cost of buying and building traditional cardboard boxes, given that they are delivered to your door pre-assembled with attached lids. The plastic moving bins are easier to load into and out of a moving truck which results in money saved by reducing the amount of hourly time it takes the movers to finish the job. Each minute counts when the clock is ticking. Because these boxes are uniform in size, they stack neatly atop one another, and next to one another in the moving truck. This is conducive to faster loading and unloading time because it eliminates any need for your movers to play Tetris with your household goods, trying to get everything to fit by moving things around multiple times; or worse, finding out that the items just won't fit no matter how hard they try and a second truck will be required at an additional cost. When the move is completed and all your items unpacked, the plastic moving bins are picked up by the moving box rentals company. If you're moving in San Francisco, Oakland, San Jose or any of the Bay Area cities in between you can rent San Francisco moving boxes and green moving supplies from ZippGo.
By relying on recycled packing paper to wrap and protect breakable or delicate household goods, you can cut the cost of moving supplies by limiting the amount of supplies required. Plastic wardrobe boxes can be reused too which means you can protect your clothes safe from damage, exposure, or wrinkles at a lower cost. The Geami Greenwrap is made from paper which means it is an environmentally friendly solution to your packing needs. The green wrap roll is less taxing on the Earth and on your wallet. This environmentally friendly form of bubble wrap is made from recycled paper which makes it reliable and inexpensive especially compared to the plastic bubble wrap that often ends up improperly placed in the trash. If you don't want to go all out on additional moving supplies, you can always use your bedding items and towels to pad your boxes and wrap fragile goods. This is a great way to remain eco-friendly while simultaneously reducing the cost of high quantities of packing materials.