MOVING BOXES
SANTA CLARA

FREE DELIVERY
Get Moving Faster with Santa Clara Moving Boxes
Unless you're a brute boxes for moving made from cardboard are too expensive, flimsy, and bad for the environment. The moving boxes Santa Clara residents have recently discovered are plastic moving boxes which you rent and get delivered from ZippGo. ZippGo's moving box rental service makes packing boxes and moving infinitely easier. We deliver stacked boxes right to your door. You take one box off the stack and can immediately start packing. Its that simple. We also provide a moving dolly and labels for every box. No tape is ever needed because our boxes have strong attached locking lids.
We delivered our plastic moving boxes to thousands of Bay Area clients in Santa Clara and the surrounding areas of Sunnyvale and San Jose. Not only have clients simplified their moves by using ZippGo, but they have prevented the waste of over half a million cardboard moving boxes. The ZippGo moving boxes are made from strong 100% recycled plastic so they can take a beating during a move and still get reused for over 500 additional moves in the future.
Over the years, we've received over a hundred and fifty 5 star reviews from clients who love using ZippGo. Annie T. from Santa Clara shared her experience on Yelp:

"ZippGo is am amazing service with an outstanding idea! They are so much better than cardboard! Not only do you not have to deal with the hassle of figuring out what to do with all the boxes when you're done moving, they are also sturdier and easier to stack. "
---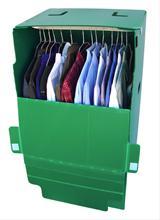 ---
Why Rent
Moving Boxes SANTA CLARA
Simplify Your Move
The last thing you want to do during the days leading up to a move is add on any unneeded additional stress. Moving is already rated as one of life's most stressful periods right up there with going to the dentist. Hunting down cardboard moving boxes santa clara is setting yourself up for pain. The best thing is to get Santa Clara moving boxes made from super durable plastic with free delivery by ZippGo. ZippGo's moving crates are neatly dropped off right at your door so you can relax and spend your energy on other things. We even include a moving dolly and box labels with every order!
Used Moving Boxes Break
If you're considering finding used cardboard boxes Santa Clara residents who recently moved may have some, but be advised these boxes can have problems. These moving boxes are often dirty after having been through at least one move, have usually been sitting in a garage or storage space collecting dust, or worse can contain bed bugs. Additionally cardboard moving boxes are made from paper fiber so they can break on you once you fill them up with your belongings. ZippGo's plastic moving crates are made from commercial grade recycled plastic so they can hold up to 100lbs each and can take a beating.
More Than Just Moving Supplies
Moving Boxes Delivery Santa Clara
Moving Box Rentals Santa Clara
Moving Supplies Santa Clara
Bubble Wrap Santa Clara
Moving Dollies Santa Clara
Plastic Moving Boxes Santa Clara
You Might Have Been Looking For:
Cardboard Moving Boxes Santa Clara
Cheap Moving Boxes Santa Clara
Used Moving Boxes Santa Clara
Buy Moving Boxes Santa Clara
Discount Moving Boxes Santa Clara
Boxes for Moving Santa Clara
Cardboard Boxes Santa Clara
GreenMouse Recycling
GreenMouse recycling specializes in electronic recycling of computers, mobile phones, televisions, printer toners, and batteries in Santa Clara, San Jose, Sunnyvale, and other surrounding cities. They also provide data erasure and paper shredding services at a nominal fee. They can do scheduled pickups at your home or office or pickup through collection events. You can drop off your recycling items at their office located at 529 Race St. San Jose, CA 95126. You can call them at (408) 464-9999 or visit their website at: www.greenmouse.com
---
Danny Recycling
In addition to recycling cardboard moving boxes, Danny's also recycles plastic, glass, aluminum, steel, and paper. If you have electronics, Danny is happy to take PC boards, monitors, and televisions off your hands as well. Danny's is committed to recycling and was rated a top 10 recycler in California. Their facility is located at 1745 Walsh Ave, Santa Clara, California, 95050. You can call them at (408) 492-9033 or visit their website at: www.dannyrecycling.com