MOVING BOXES
SAN JOSE

FREE DELIVERY
If You're In San Jose Moving Boxes and Moving Supplies from ZippGo Include Free Delivery
Instead of cheap moving boxes San Jose, save money by renting plastic moving boxes inexpensively from ZippGo and get FREE Delivery too. You can place an order in minutes on our website or by calling our toll free number (800) 723-7017. Forget about the stress of going to a big box store, buying heavy flat cardboard boxes which you have to somehow fit into your car only to lugg them into your house once you get home. Then to make matters worse, you have to spend hours building boxes and fussing with sticky and messy tape. Instead rent San Jose moving boxes from ZippGo and we'll bring them right to your front door. It can't get any easier to pack up your belongings. We have three different box sizes so you can fit all your books, kitchen items, and even blankets and pillows. We've got you covered!
San Jose customer, Elsvette B, had these amazing words to say about ZippGo in a Yelp Review "Seriously, if you're on the fence about renting boxes from Zippgo, DO IT. It's good for the environment, saves you time, and is super convenient. You won't regret it."
---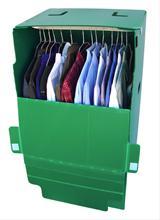 ---
Why Rent
Moving Boxes SAN JOSE
Three Moving Box Sizes
Our plastic moving boxes come in three different sizes to pack most of your belongings and because our boxes are made from durable commercial grade 100% recycled plastic, your items will be safe. The attached lids close and can be secured with the free zip ties provided with every package. Unlike cardboard moving boxes, ZippGo's boxes don't need to be assembled, don't need tape, and arrive ready to be packed. We've got the right box to pack almost anything during your San Jose Move. Check out our different moving boxes rental packages.
Pay Your Moving Company Less
When using ZippGo moving boxes San Jose customers will save money when they hire a moving company. ZippGo's plastic moving crates uniform design makes them easy to stack and load on a dolly and load into the moving truck. Cardboard moving boxes create delays because they are top heavy, cannot be stacked very high because of weight and crushing issues, and because they can easily tip over both during loading and in the truck. Moving companies often spend a significant amount of time organizing cardboard boxes. With movers charging upward of $150/hr, even saving 30 minutes saves you money.
Additional Services We Provide:
Moving Box Rentals San Jose
Moving Supplies San Jose
Moving Dollies San Jose
Plastic Moving Boxes San Jose
Office Moves San Jose
Moving Crates San Jose
Book Boxes San Jose
Alternative to Cardboard Moving Boxes San Jose
Moving House Boxes San Jose
Other Moving Supplies You May Need:
Cardboard Boxes San Jose
Packing Supplies San Jose
Cheap Moving Boxes San Jose
Packing Boxes San Jose
Packing Paper San Jose
Bubble Wrap San Jose
Wardrobe Box San Jose
Green Ewaste Recycling Center
Once your San Jose move is complete, you may have an excess of old electronics unpacked from your San Jose moving boxes which either no longer work or you no longer need. Be environmentally conscious and recycle these items at E-Waste Recycling Center instead of throwing them in trash. You can go directly to their facility at 2127 Monterey Hwy San Jose, CA 95112O or call them at (408) 287-3292 visit their website at: http://www.gerecycle.com
---
MRH Electronics
If you've just completed a San Jose, Santa Clara, or Sunnyvale Move and have electronics you need to recycle, call the friendly staff at MRH Electronics. They have a convenient location where you can drop of computers, tablets, mobile phones, or other electronic devices. They are located at 233 E Weddell Dr Ste A Sunnyvale, CA 94089. You can call them at (408) 745-7411 or visit their website at: www.mrhelectronics.com