MOVING BOXES
REDWOOD CITY

FREE DELIVERY
The Best Redwood City Moving Boxes Solution
Stop the moving insanity! Everyone dreads buying cardboard moving boxes to pack up all their belongings because you to build them, tape the boxes, and then worry about them breaking in the middle of your move. ZippGo solves this problem by delivering moving boxes Redwood City residents love. ZippGo rents plastic crates with free next day delivery to your home or office. The boxes come assembled with attached lids and are neatly delivered in nested stacks. There is no better solution to packing boxes and moving your home. ZippGo simplifies your move by significantly reducing your packing time, saving you money, and eliminating the big mess created if you move with cardboard boxes and tape.
Since introducing our green plastic moving boxes Redwood City residents who have used ZippGo have been talking, tweeting, Facebook posting, and writing Yelp reviews about how amazing our service is and how it made their moves significantly easier. Check out our 5 star rating on Yelp with over 150 reviews to see how much people love using ZippGo's plastic bins and moving supplies. Once people experience how wonderful our service is and how simple our green moving boxes make their move, they scoff at the idea of ever using cardboard boxes again.
---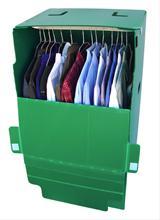 ---
Why Rent
REDWOOD CITY Moving Boxes
Better For The Planet
We know Redwood City residents would like to pack and move without waste, but the move should be more convenient and be better on our wallets as well. ZippGo rents plastic moving boxes Redwood City residents have been using since 2009 and we have cracked the code on zero waste. ZippGo's moving bins are stronger, cheaper, conveniently delivered to your door, and much better for the environment because our reusable moving boxes can be used over 1000 times before they need to be recycled. Compare this with cardboard moving boxes which can last for 3 moves before they need to be recycled. We also offer moving supplies which are good for the planet like packing paper made with recycled material and GreenWrap which is an eco friendly replacement for plastic bubble wrap.
Packing Boxes Is So Much Faster
If you've used cardboard moving boxes before, you know how long they take to build and tape, and then tape again once you've filled it. After you move, you have to rip the tape off to get to your belongings, and then once you've unpacked break down a house full of empty boxes. The entire process of building boxes and breaking them down will add 2-3 hours to your already stresfull day of moving. By using ZippGo's plastic moving boxes to pack your belongings, you'll be able to start packing the moment we deliver to you. Our boxes never need tape because they have attached flap lids that snap together once you've finished packing a box. After your Redwood City moving boxes are unpacked, a ZippGo team member will pickup the boxes from your new place.
Redwood City Moving Supplies:
Packing Paper Redwood City
Wardrobe Boxes Redwood City
Bubble Wrap Redwood City
Moving Dolly Redwood City
Moving Box Labels
Lifting Straps
Packing Boxes Redwood City
Moving Boxes Redwood City
Why Rent Plastic Moving Boxes
1) ZippGo delivers the plastic moving crates to your Redwood City home or office so you don't need to drive anywhere to get boxes
2) Your Redwood City moving company will load and unload the moving truck much faster (saving you money)
3) Unlike cardboard moving boxes, ZippGo boxes don't need to be assembled and never need tape
4) ZippGo moving boxes won't break on you and are much stronger than cardboard
5) Great for the planet. Unlike cardboard boxes which can be reused a couple times before they start falling apart, ZippGo boxes are zero waste because they can be reused thousands of times.
Shoreway Environmental Center
Shoreway offers a state-of-the-art recycling center for both residential and office customers. The goal of this facility is to recycle almost anything. After unpacking their moving boxes Redwood City residents will often find they have lots of items which need to be recycled. Shoreway Environmental Center will recycle yard debris, cardboard, scrap metal, latex paint, and any type of electronic material including computers, monitors, and televisions. You can call them at (650) 802-8355 or go to their facility located at 333 Shoreway Road, San Carlos, CA 94070. You can get more information about them by visiting their website at: http://www.sbrecycling.net
---
Salvation Army
The Salvation Army in Redwood city will accept donation for clothing, furniture, household goods, and even cars. This is great resource for recycling your items when cleaning out your closets or storage boxes from your home. You can call them at (650) 368-4644 or go to their location at 660 Veteran Blvd. Redwood City, CA 94063. You can also visit their website at: Salvation Army Website