MOVING BOXES
MENLO PARK

FREE DELIVERY
Looking for Moving Boxes in Menlo Park?
You were probably searching 'moving boxes Menlo Park' and we're thrilled you found the original plastic moving box rental company, ZippGo. We do one thing and we do it really well. We rent plastic moving boxes Menlo Park and offer free delivery and pickup for well under $99. We rent our boxes by the week and we have created specific packages for every sized home. If you've got a 1 bedroom home or a 5 bedroom home, we've got the perfect moving box package for you. If you need moving boxes for an office move in Menlo Park, we can custom tailor a package based on the number of employees who are relocating. Every package includes a 4 wheel dolly custom made for ZippGo boxes, labels for every box, and two zip ties per box to prevent prying eyes from opening it after its packed. When you use ZippGo, your supporting a small local company started by founders who grew up in the Bay Area.
We've been serving the Bay Area for over 6 years now and nearly every Menlo Park Moving Company has used our boxes for their clients moves. Menlo Park Movers rave about ZippGo's moving boxes because of how they speed up the moving process while eliminating all the typical waste found with cardboard moving boxes.
---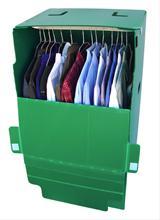 ---
Reasons To Rent
Moving Boxes MENLO PARK
Tougher Than Cardboard Boxes
Every ZippGo box is made of thick high-density polyethylene recycled plastic and designed to withstand the toughest conditions so your belongings stay safe and secure. All of our boxes were designed with attached flapping lids and the ability to easily nest when empty and just as easily make sturdy stacks when fully packed. When using our moving boxes Menlo Park residents will be relieved to find out ZippGo boxes are crush proof, tear proof, and water proof. Many of our customers have moved in the Winter during storms and told had they not used ZippGo boxes their belongings would have been destroyed if in cardboard boxes.
Go Green And Save Money
The amount of waste that is created by using cardboard moving boxes just once for a move is staggering. ZippGo's plastic moving boxes are great for the environment because they are a zero waste solution. If you've moved before, you know there is a risk of your belongings getting damaged because of the flimsy composition of a paper box. Our plastic crates are super strong and durable so they get reused over 500 times each. If you're considering packing in used cardboard boxes, beware of dirt, germs, and bedbugs getting on to your clean belongings. ZippGo boxes are thoroughly cleaned and sanitized after every use so you only get sparking clean boxes to pack your stuff.
Recology Menlo Park
If you live in Menlo Park, Recology will provide curbside recycling and organics service. The Menlo Park City office is located at 701 Laurel St. Menlo Park, CA 94025 and they can be reached on their phone at (650) 330-6600 or visit their website at: Menlo Park Recycling
---
Shoreway Environmental Center
When you complete your Menlo Park move you'll find you have lots of extra items you no longer need. Recycle these items instead of throwing them away. The Shoreway Environmental Center near Menlo Park will recycle just about anything at their large facility. You can visit their facility at 333 Shoreway Road, San Carlos, CA 94070 and call them at (650) 802-8355 or visit their website at: www.sbrecycling.net