MOVING BOXES
FOSTER CITY

FREE DELIVERY
Forget Cardboard Moving Boxes Foster City Residents And Go Green With ZippGo
It can be difficult to buy moving boxes Foster City if you don't know where to start. The thought of lugging cardboard moving boxes from a store and into your house or apartment in Foster City is daunting. We experienced this same problem over 6 years ago and launched ZippGo to provide plastic moving box rentals in Foster City and other San Francisco Bay Area cities. ZippGo moving boxes are made from durable 100% recycled plastic and you can start packing the moment they arrive. You'll never need tape because our boxes have attached locking lids. All you have to do is select one of our 4 packages based on the number of bedrooms in your home, put in your delivery information including the date you would like the Foster City moving boxes delivered, and then enter in your credit card. We'll take care of the rest from there. We'll deliver our green moving boxes right to your door on the day of your delivery and pickup the boxes from your new place once you moved and unpacked.
In addition to moving crates, we also provide moving supplies Foster City residents can add on to their delivery. Moving supplies delivered to your door include packing paper for packing kitchen items, an recyclable bubble wrap without the bubbles called GreenWrap, plastic wardrobe boxes, moving dollies, and box labels.
---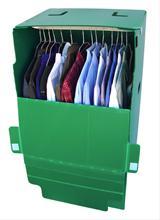 ---
Why Rent
Moving Boxes FOSTER CITY
Foster City Moving Box Services
Moving Boxes Delivery Foster City
Moving Boxes Pickup Foster City
Moving Box Rentals Foster City
Moving Supplies Foster City
Wardrobe Boxes Foster City
Bubble Wrap Foster City
Moving Company Recommendations Foster City
ZippGo Simpler and More Efficient Than:
Cardboard Moving Boxes
Cheap Moving Boxes
Used Moving Boxes
Packing Boxes
Having to buy moving boxes
Discount Moving Boxes
Boxes for Moving
Cardboard Boxes
Dirty Recycled Boxes
Full Service Starting at Just $69
Our uniformed Foster City moving box delivery team will promptly arrive at your home within a specified 2 hour window. Our boxes neatly nest inside of each other so they take up very little space. We'll place the boxes along with any moving supplies you have ordered on your front porch or any other place you prefer. As the end of your rental period approaches, we'll contact you to make sure you are ready for pickup and then schedule a 2 hour pickup window and pickup your empty and unpacked moving totes. Unlike cardboard boxes which you would have to remove tape from, breakdown, and then dispose of, ZippGo moving boxes are picked up by us and we handle the entire box cleanup.
Zero Waste Moving Solution
We created Foster City moving boxes services which were green focused because we were tired of seeing all the waste created from cardboard. Our team is committed to sustainability and this can be seen in the many ways we operate. We use moving boxes made from 100% recycled plastic, packing materials which are made from recycled papers, and only items which are either recyclable or reusable. Sorry but we don't offer plastic bubble wrap or cardboard wardrobe boxes because they are bad for the environment.
---
RESOURCE FOR FOSTER CITY

APARTMENT RENTAL
The Plaza
The Plaza Foster City is one of the newest luxury apartment buildings in Foster City. They have eleven different floor plans in 1 bedroom, 2 bedroom, and 3 bedroom configurations. They amazing amenities like a state-of-the-art fitness center, a spa with massage therapist and esthetician, zen garden, and outdoor lounge area with TV. They are also a pet friendly community and also offer dog walking services. They are a green focused community which promotes green living and sustainability. They are located at 1 Plaza View Lane Foster City, CA 94404. You can call their leasing office at (877) 506-2678 and visit their website at www.plazafostercity.com
---
Marlin Cove Apartments
The Marlin Cove Foster City is a modern apartment complex with great amenities and is close to the mid Peninsula waterfront. They offer generously sized apartments in a 1 bedroom and 2 bedroom format. They are a gated community and have a state-of-the-art fitness center and clubhouse with pool. They also have a boat dock for for boat owners. They are located at 1060 Foster City Blvd Foster City, CA 94404. You can reach their leasing office at (650) 349-3200 or go to the Marlin Cove Website