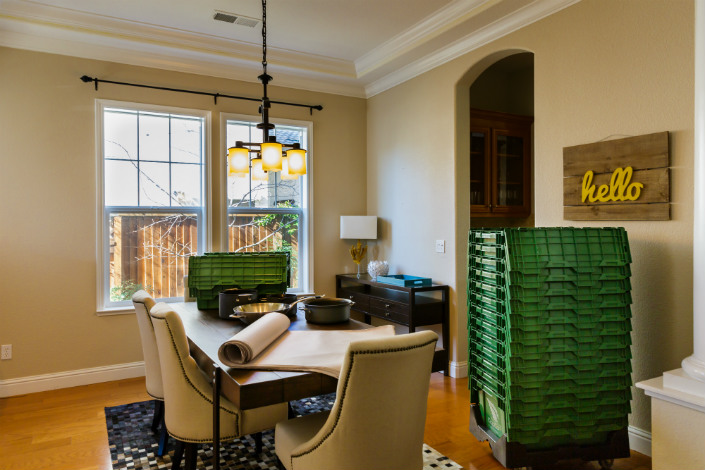 For your next move, don't waste time with cardboard boxes. Rent ZippGo's plastic moving boxes to pack your kitchen and all the rooms in your home. When you move you need to have multiple sizes. One sized box will not fit all of your goods, especially with the variety in weight and size for clothing, books, kitchenware, and more. Rather than trying to fill up a one-size-fits-all cardboard box, you can rely on plastic moving boxes for better weight displacement. Weight displacement alleviates the risk of two boxes being equal in shape but drastically different in weight. Heavy boxes full of all your heavier items like books makes it difficult for the cardboard to maintain its shape and for your movers to load and unload the box. Cardboard boxes are also susceptible to damage. Heavier boxes might damage lighter boxes during transit. Pouring rain can seep into the cardboard and soak the contents inside. Lifting wet cardboard without any handles can result in the box's structure collapsing and your goods falling on the ground.
Packing With Different Box Sizes Is A Must
Plastic moving boxes can be rented in a variety of sizes to meet all of your moving needs. What's more, the plastic moving boxes from ZippGo come with handles. These boxes are designed to withstand heavier weight compared to cardboard. This means that you can fill one whole box with your books and another box with all of your pillows, organizing things as they are meant to be unpacked, and it won't present a back breaking issue for your movers. The variety in size affords you the ability to pack your goods in the most efficient manner possible. Medium sized boxes function well as book boxes and will not compromise in terms of strength no matter who heavy your book collection might be. Large moving boxes are ideal for larger household appliances and goods as well as oversized bedding or clothing. You can place a down comforter for a king sized bed into the larger moving box without worrying that the fluff will be flattened. The extra-large moving boxes are perfect for your pillows and blankets as well as other unruly household goods that are likely to burst right out of cardboard boxes. Delicate wardrobe items which you don't want wrinkled during your move can be placed in the rented plastic wardrobe box. This box is designed so you can move your items from their place on the hanger directly to the pseudo closet for transit.
All of the sizes available are weatherproof and damage proof. They have pop on secured tops for easy packing and unpacking. When you are done, each of the boxes can be stacked on top of one another in your moving truck. When you order the boxes, they arrive at your home assembled. When you are done with them, they will be picked up in the same fashion.
One of the quintessential jokes about moving is that many of the boxes get stored for years after the initial move, never quite unpacked. But if you rent plastic moving boxes you are held accountable for unpacking everything upon your arrival, something which forces the nesting process and allows you to properly settle into your new home.
How Many Weeks Should You Rent Moving Boxes?
If you are planning a move, one of the biggest mathematical predicaments you will face is how much time you should allot to packing and unpacking. This is something which goes hand in hand with your schedule and that of your family (if you have one). You might want to save money by packing your goods yourself, but knowing exactly how much time to set aside is tricky due to the fact that you have likely accumulated more stuff over the years so any measure of the amount of time it took you to pack for your last move is likely too small.
For most people, two weeks is about the ideal packing and unpacking time. With time off work, people can dedicate a full week before their move to packing all of their household goods, starting with things that are not used every day and ending on the final day with those daily necessities. The same time frame is often used for the unpacking; those things you need daily are unpacked the day of your move while the rest of your goods are unpacked in the same order they were packed.
It is for this reason that most people choose to rent plastic moving boxes from ZippGo for 1-2 weeks. The most common rental period for ZippGo customers is 2 weeks or more. Roughly 70% of all customers rent their plastic moving boxes for at least 2 weeks. When customers rent moving boxes for 2 week periods, they generally have the boxes delivered 1 week prior to their move date, giving them enough time to pack all of their household items. The pickup date is scheduled for 1 week after the move, giving them enough time to unpack all of their household goods in the new home.
Of course, if your schedule is set up differently and perhaps you have to pack your goods a few hours after work for 4 weeks before the move rather than taking time off right before the move, you can arrange for a longer rental period. If you have a comprehensive moving service such that the movers will pack your goods for you on the day of the move, you can make arrangements for the rental period to be shorter.
If you're doing home improvements such as remodeling your kitchen, bedrooms, or bathroom you may need to rent the boxes for a longer period of time. Contact ZippGo about their discounted monthly rates for long term rentals.
Need More Time?
If you find that during the course of packing or unpacking your household goods the amount of time you've rented the boxes for is not enough, you can always call ZippGo's toll-free number or send them a quick email requesting an extension on your rental. You can take advantage of discounted weekly rental extensions starting at just $30. If you find that your initial packing took almost the entire 2 weeks, you can get an extension for another week or two in order to give yourself enough time to unpack your goods before the boxes are picked up.