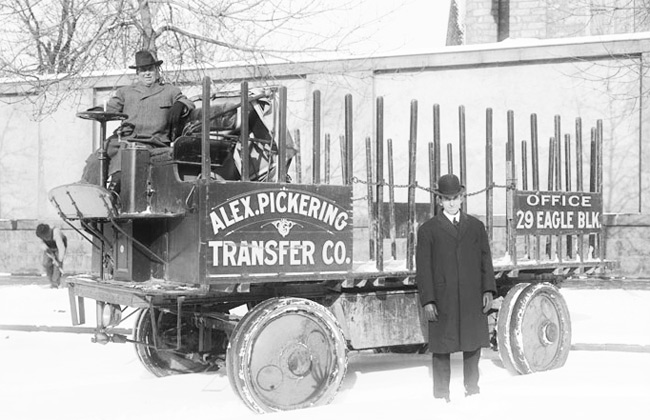 The San Francisco Bay Area has seen many changes over the last few years in terms of demographics, development, social progress, political decisions, and of course the ever-changing landscape of hip restaurants, theatrical performances, and art shows. In addition to all of these changes, San Francisco has enjoyed changes in terms of available moving companies and their moving trucks.
Since the 1800's San Francisco housing and transportation methods have evolved to fit the demands of the social demographics. This is evident in the moving trucks used over the decades.
The 1800's
Early on in the 1800's, a rule which is still in place across much of Europe prevented landlords from evicting their residents during the harsh winter months. This law prevented a great many renters from dying outside due to exposure. But that said, the spring cleaning idea was one tied in directly with spring time moving. People would move en masse in such droves that it seemed everyone in the neighborhood was likely to be found next to a moving truck. This tradition resulted in renters packing up all of their household goods by stacking them atop one another inside of whatever flatbed style wagon was available and then pulling their goods by way of a horse to their final destination. Using the wooden fence sides and back of the wagon, a large blanket or sheet would be affixed atop the household goods to protect from weather and exposure during transit. The availability of railroad transit was conducive to moving company warehouses situated near railway stations. This convenience meant that people could have their items moved by a company either in a railway cargo container or in the back of a horse-drawn wagon and upon their arrival at the train station, the goods would be waiting for them.
Moving businesses sprang up long before automobiles were invented, with horse drawn carriages as the preferred method of transporting household goods. Around the beginning of the 1900's moving trucks and vans still relied upon horse-drawn carriages to move goods during the industrial period in spite of the first automobile rolling off the factory lines in 1885. Trucks provided the space and load ability to pack all of the household goods in one trip, but they relied upon horses as their mode of power due to limited alternative fuels at the time. At this juncture, people would still place their goods inside of whatever crates or boxes could be found and stack them on the truck or van. Using the wooden fence sides and back of the truck, a large blanket or sheet would be affixed atop the household goods to protect from weather and dust during transit.
1900's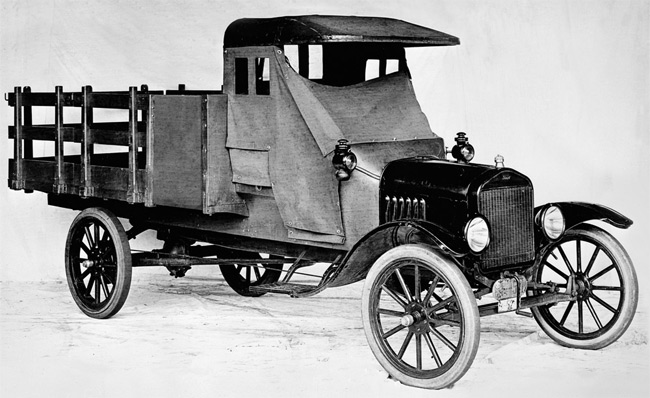 This idea of offering larger space to hold household goods and moving them via vehicles evolved at the start of the 1900's when moving and storage companies produced the enclosed moving truck. Such trucks were revolutionary in that they afforded protection previously unavailable for the household goods of movers. This was particularly beneficial during harsher weather.
By 1919, the combustion engine was everywhere and this meant new access to transportation. The Ford TT trucks became the moving industry stand-by for those looking to relocate.
1940's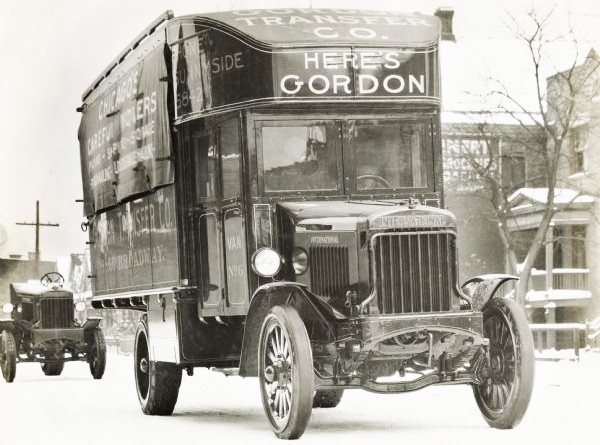 The 1940's was the height of the flatbed truck. These moving trucks featured no ramps, and few boxes. Movers would rely on the kindness of friends and family to load their household goods as they were onto a flatbed truck while still donning their traditional suits and ties. At the same time, sturdier trucks were being introduced to the movers market, such as the Mack E model used by Peter Van Lou Moving which was not only designed to handle higher weight and volume capacities but had more space for household goods. This was an important chance in the moving truck industry as many homeowners at the time were investing their hard earned cash in the quintessential American Dream, which included a lot more furniture and material items to move.
1950's and 1960's
Right after the Second World War, moving trucks began to use 4 cylinder and 6 cylinder engines to that they could hold more per move. Movers relied upon cardboard boxes to pack their items and when those ran out, they would simply place their household goods inside of whatever containers were available. In some places, tractor trailers were used to move large sets of household belongings.
2000's
In the early 2000's the moving industry faced serious competition which forced semi-trucks to come up with innovative hauling designs that allowed for large shipping container attachments. This was also around the time that people would store their household goods temporarily while they made the transition to a newly rented or purchased home. With the onset of environmental awareness, movers began to look for ways to avoid cardboard boxes during their move and focus instead upon recyclable materials.
Modern Trucks
Today, modern moving trucks are designed for moving and moving alone with new features that make long distance travel effortless. They have distinguishable features include side doors which afford easy access to the plastic moving boxes the best moving companies are utilizing. These boxes are a newer facet of the moving industry, designed to be stackable and easily packed and unpacked. They are reusable and offer better protection against the elements.
Modern moving trucks come equipped with low ramps which make loading and unloading of rentable plastic moving boxes physically efficient. Trucks today have electric ramps as well with controls for the height of the ramp and the angle at which it sits. These controls allows for movement of equipment or heavy furniture in whatever angle or height is best. For example: the ramp can be placed at an angle with one end touching the truck floor and the other flush against the ground so that wheeled dollies or heavy furniture like pianos can be rolled up into the truck. In other cases the ramp might be placed flat on the ground so that large items can be slid on top of it, after which the electrical controls move the entire panel up until it meets the truck floors. Modern moving trucks have low-profile tires which allow for a great volume capacity so movers need not rely on multiple trips. There is an air-ride suspension built into modern trucks so that the amount of movement during transport is limited and subsequent damage to your household goods is reduced during transit. The additional storage space inside of the driver's cabin makes it comfortable to drive the moving truck yourself if you so choose.
About The Author
ZippGo has been renting and delivering plastic moving boxes and green moving supplies throughout the San Francisco Bay Area since 2009. Our goal is to change the way people think about how they pack and move. Unlike buying the historical cardboard moving box, renting a plastic moving box creates zero waste while making packing and moving so much easier and cheaper.