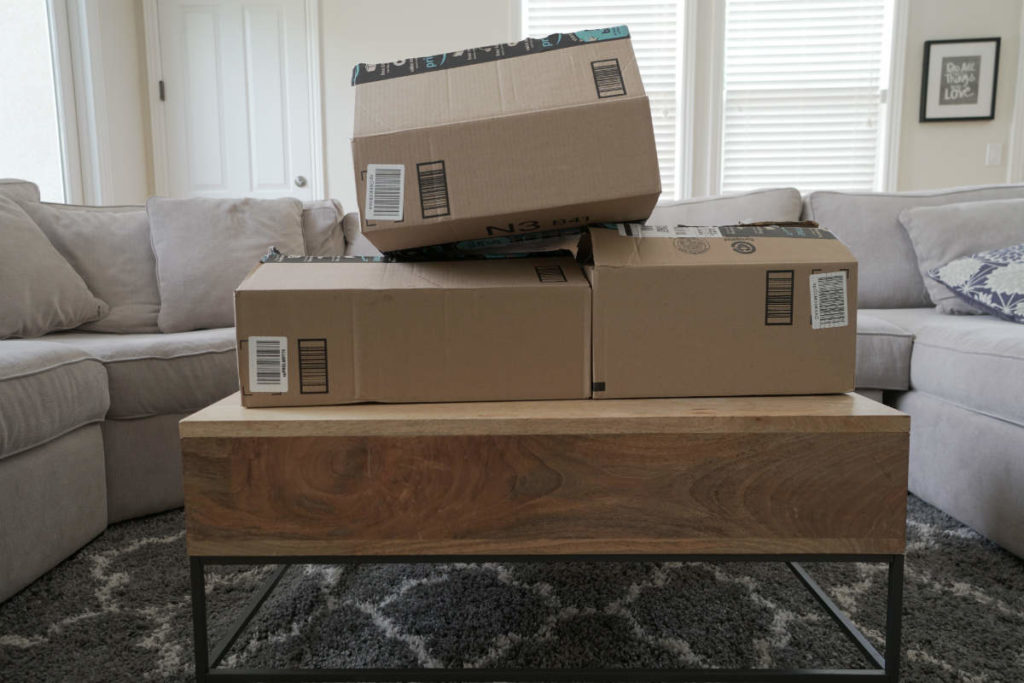 While getting free cardboard boxes for moving is an easy thing to do, it is not always the best solution. You will want clean, sturdy, and overall reliable boxes to assure that your belongings arrive at your new residence safely. There is only one way to assure that happens, even on a moving day that involves rainy conditions. The solution is to get environmentally friendly, sturdy, and reusable moving boxes with interlocking lids that provide for the full protection of your possessions no matter the weather on the day of your move.
You can rent moving boxes at a budget-friendly price from ZippGo, which will deliver the moving containers to your door and pick them up when your move is complete. ZippGo can deliver Oakland Moving Boxes, San Jose Moving Boxes, and San Francisco Moving Boxes. However, if free boxes are your desire, here is how to find them.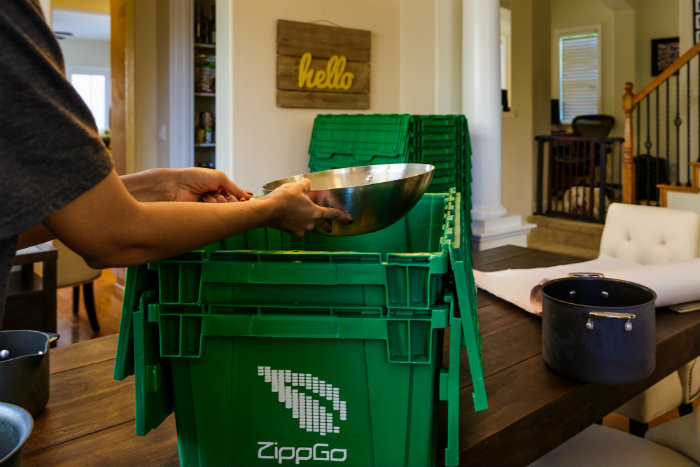 Online Options for Finding Free Cardboard Boxes in the SF Bay Area
There are numerous online options for finding free moving boxes, and starting your search on your web browser instead of in your car will save you a lot of time.
Find Free Moving Boxes from Craigslist.com
Craigslist is one solution for finding boxes virtually, however, be careful not to pick up boxes which are dirty or possibly contain bedbugs. Go to the "free stuff" section on the website and use the following search terms in that section to find free boxes:
In a recycle-friendly city like San Francisco, free boxes are always available on Craigslist. Once you find the boxes you desire, notify their owner and coordinate a pickup time and location. More container options will be available on Sunday evenings or Monday mornings because that is when people will have unpacked after a weekend of moving. Sometimes, you can even come across free packing material like bubble wrap and packing paper while searching for boxes.
You will find numerous friendly listings on Craigslist like one advertisement we found from Menlo Park: "Just moved into new place and have 60-70 moving boxes available for FREE. Also, lots of packing paper. Boxes were only used once and have been broken down. In good condition. If you want to come pick them up, they are yours!! Contact me for address and to schedule pick up time. Thanks!"
Find Free Moving Boxes from Freecycle.org
Freecycle will have free moving boxes available, but the process is a bit more complicated than Craigslist, and the options aren't as rich. However, you might find a closer location for free boxes on Freecycle than on Craigslist, so you should check it out. Currently, the Freecycle network has 9,112,109 members in 5,305 groups, who are looking to unload or find free items in their community. The nonprofit, grassroots website is trying to keep things out of our world's ever-expanding landfills by providing a way for people to give away their unwanted goods.
The first thing you will need to do on Freecycle.org is find the "group" that best serves your area. Here are some group options for SF and the surrounding area:
Milpitas/Berryessa/East San Jose
Once you get to your specific group's page, you will need to hit the "search posts" button, type in "boxes", and you will be directed to a page of listings. Make sure that you "uncheck" the "Include wanted posts?" or the search will count posts for people looking for boxes not giving them away. On the day we searched the "San Francisco" group on Freecycle, we found seven listings for boxes, and some of the listings included packing materials. Most of the boxes we found were in these two groups:
Free boxes in the San Francisco group
Free boxes in the San Jose group
Once you find the boxes that you want, you have to be "logged in" and a member of the group to reply to posts. You can sign up by using your Facebook account or by creating a username and password on the website.
Find Free Moving Boxes from U-haul Customer Connect
U-Haul Customer Connect gives you options for linking up with folks who are trying to share, exchange, or sell moving boxes and moving supplies in an effort to reduce waste. Special attention is given to Armed Forces members and college students, but anyone can browse the options. By going to the Customer Connect main page, you will find a list of states and cities. California has a strong showing of cities, but the options in each location are limited, and most of the listings were from people who needed boxes. You might get lucky on the U-Haul site and find someone near you who is giving up their used boxes, but Craigslist and Freecycle have more listings.
Find Free Moving Boxes on Facebook
The community groups on Facebook are hit-and-miss when it comes to finding free boxes, but it is worth a shot if you are desperate. Look for groups like "San Francisco- BUY, SELL, TRADE, AND FREE STUFF ", and post your need for free boxes on the group page itself. However, a better bet is to ask your friends if they have free boxes through a status update on your personal profile page.
Find Free Moving Boxes on Nextdoor.com
Nextdoor is social network that is specific to your neighborhood. The intention of the website is to bring people closer to home by networking the news and needs of your immediate community. Currently, 152,000 neighborhoods across the country make up the virtual society, assisting folks with meeting, socializing, and organizing with their neighbors.
The first thing you will need to do is find your neighborhood by putting your address into the Nextdoor website or application's search engine along with your email address. For example, we used an address on Market Street in San Francisco, and Nextdoor assigned us to the "Financial District". Then, you will be prompted to provide your first and last name, along with a password, and your sex to get "full access". In order to verify your neighborhood, you will need to provide proof of residence. This can be done in one of three ways: by phone, credit or debit card, or postcard, which are all free ways to verify your address. If you use your phone or a card, you will receive instant access once verified. A postcard takes 3-5 days.
Once you are an active participant in the Nextdoor community, you will find neighbors doing neighborly things like reporting crimes, creating crime watch groups, notifying each other of yard and garage sales, and posting social functions. In addition, you can place your needs on the community billboard as well. Your particular need on this day is free cardboard boxes, and certainly, your Nextdoor community, which averages 500 members per neighborhood, will have the free, used cardboard and packing supplies you need to get you moved.
Brick and Mortar Solutions for Free Moving Boxes
If you don't have any luck online finding boxes on the internet, or you are uncomfortable dealing with strangers in order to get them, then you have other recourses available. Those options might include making a few phone calls to retail establishments in your neighborhood or stopping by local businesses.
Recycling Drop-off Locations
Recycling containers are stationed in and around the city of San Francisco, so that citizens can easily drop off recyclable materials like newspapers, beverage containers, and cardboard. The containers that look much like small trash dumpsters often have broken down boxes inside them and beside them if the container is full or the boxes are too big. Also, many large recycling centers with a bit of community spirit will have a spot at their location where people can leave and pick up boxes for reuse. Give them a call to see.
Find Free Moving Boxes at Your Neighborhood Retail Stores
Retailers in your area receive, unpack, and discard boxes as they get merchandise. On a daily basis, they are unpacking boxes to fill their shelves. If you can get the boxes before they end up crushed or out by their dumpster, you have a chance at getting some decent containers. Some local establishments are willing to save boxes for you if you ask them. In the course of a single day at big department stores or grocers, you should be able to get all of the boxes that you need.
Another option is to drive through the alley behind the stores to find boxes that have been trashed, but you run the risk that they have been exposed to elements like rain or rodents. If you find decent boxes behind a store, it is best to ask permission before you take them out of common courtesy, and if you do, they might have some more boxes inside.
Restaurants are also a good spot to get free boxes. For example, even if you're not interested in eating at McDonalds or other fast food restaurants, apparently their French fry boxes are the rage. There is even a Facebook page dedicated to their versatility. The gratitude page called "McDonalds Fry Box Appreciation Society" extols the greatness of these boxes, which are said to be super sturdy, and since they carried frozen fries, there is no grease or smell, according to reports. The Facebook page has become a hub for people looking for boxes all around the world. Considering the amount of McDonald's fries that are served in a day, you are likely to have some options when calling or visiting your neighborhood fast food enterprise. Fast food restaurants receive their shipments in the morning, and boxes are broken down and placed in the trash before noon. Unless you want to go dumpster diving, make your request early.
Here are your best retail options for finding sturdy cardboard boxes:
Home improvement stores like Lowe's, Cole Hardware, and Ace.
Office supply stores like Staples, OfficeMax, and Office Depot. These stores receive shipments from noon to 3 p.m. on Tuesdays, which is when they receive their first freight shipment of the week. Also, ask about their empty printer and copier paper boxes in their copy center.
Liquor stores like Healthy Spirits, Reno's, and the San Francisco Wine Trading Company. These stores have boxes that are durable and sturdy because they have to hold heavy bottles.
Bookstores like Barnes & Noble. Their boxes hold up because they accommodate book shipments. Bookstores normally receive shipments on Tuesday, so that day is your best bet for finding boxes.
Shoe stores like DSW Designer Shoe Warehouse and the Shoe Palace.
Pharmacies like CVS and Walgreens. These stores get big shipments on Tuesdays.
Pet stores like Petco. The best time to get boxes from Petco is Monday morning about 9.
Grocery stores.
Department stores like Walmart and Target. Walmart stocks their stores at night, so night owls can get boxes around 10 p.m. on any day of the week. Target gets their big shipments on Monday, Tuesday, and Wednesday, and will usually set aside boxes for you if you call before noon.
Dollar stores like Dollar Tree and 99 Cents Only.
Bars and restaurants.
Find Free Boxes at Apartment Complexes, Schools, and Office Buildings
Often, you can find free moving boxes at locations where there is regular influx of people who are moving and companies that are relocating. Apartment complexes will usually have boxes by dumpsters at the end and beginning of each month. Office buildings also have new tenants arriving on a monthly basis. In addition, local universities have students who are moving into dorms at the beginning of every fall and spring semester.