MOVING BOXES
SAN FRANCISCO

FREE DELIVERY
Looking To Do A San Francisco Move Soon?
You probably found this page after doing a search for 'moving boxes san francisco' because you're going to be moving in SF sometime in the near future. Well we're thrilled you found us and we're going to help make your home or office move the easiest you've ever experienced. Our rented plastic San Francisco moving boxes remove the stress, hassle, and risk that comes with packing and moving with cardboard moving boxes. You no longer have to worry about your packed belongings safely making it from one location to another.
Forget about buying new or used San Francisco cardboard moving boxes and get ZippGo's green moving boxes delivered to your door. Driving around the steep hills and dense traffic in the city just to find moving boxes San Francisco is so not worth it. Why deal with all the hassle, when ZippGo will bring better San Francisco moving boxes right to your door? We rent by the week and prices start at a ridiculously low $89 for enough plastic moving boxes to pack a 1 bedroom apartment or condo.
SF Bay Area moving clients love using ZippGo. Check out what Max M. from San Francisco wrote on Yelp about his ZippGo experience:

"These guys and their magic boxes make moving so much easier, faster and cheaper! Will use them and recommend them to every person I know who is moving."
---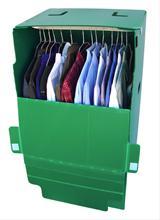 ---
When Should I Rent
SAN FRANCISCO Moving Boxes?
Moving Your Home
Moving is rated as one of the most stressful events in a person's life. Its way up there with stressful events like going to the dentist and public speaking! Yikes! When we launched ZippGo, one of our top goals was to help reduce the stress people feel during a move by simplifying the packing process with our ready to pack and durable plastic green moving boxes. Judging from the over 130 Glowing Five Star customer reviews on Yelp, we've succeeded. After using ZippGo moving boxes San Francisco residents tell everyone they know about ZippGo because our service and boxes really make moving simpler, faster, and cheaper.
Office Moves
We've delivered ZippGo green moving boxes to many of the hot San Francisco startups and as well as to large established companies. Customers who are moving offices love us for two reasons: smart companies know time is money and they recognize renting our plastic moving boxes makes relocating employee workstations and offices so much faster and more efficient. Also, in the San Francisco spirit of sustainability, local companies are conscious about being green and recognize ZippGo as the only moving box rental company with the same commitment. ZippGo boxes are made from 100% recycled plastic and all our moving supplies are recyclable. If your office is moving soon, ZippGo's moving boxes San Francisco is the best way to economically and environmentally relocate your employees.
Remodeling Your Home
If your remodeling your kitchen with new cabinets, new countertop, and new refrigerator, renovating your bathrooms to feel like a spa, or simply repainting the interior of the house ZippGos plastic moving boxes are perfect to protect your belongings from the dust and dirt which soon be everywhere. Cardboard boxes are made with paper fibers and collect dust and dirt very quickly. If your renovation will be complete within a couple of weeks, our box packages start at just $69 delivered. If the project will take longer than a month, we offer great monthly discounted rates. Call us at 800-723-7017 to get pricing.
Short and Long Term Storage
If you've just sold your San Francisco home and haven't found a new place to move into, you probably need to keep your belongings in storage. Don't take the chance of your belongings getting damaged by water, rodents, bugs, and dust when in storage in cardboard moving boxes. Rent ZippGo's plastic moving boxes to ensure your belongings are safe and clean when you're ready to move in to your new place. With our discounted monthly pricing designed specifically for short and long term storage clients, there is no reason to pack in cardboard.
Service And Moving Supplies
Moving Boxes Delivery San Francisco
Moving Boxes Pickup San Francisco
Moving Box Rentals San Francisco
Moving Supplies San Francisco
Wardrobe Boxes San Francisco
Bubble Wrap San Francisco
Moving Company Reviews San Francisco
ZippGo Beats All Of These:
Cardboard Moving Boxes San Francisco
Cheap Moving Boxes San Francisco
Used Moving Boxes San Francisco
Packing Boxes San Francisco
Having to buy moving boxes
Discount Moving Boxes San Francisco
Boxes for Moving
Cardboard Boxes San Francisco
Dirty Recycled Boxes
Plant SF
Plant SF is a San Francisco based non-profit to help make local sidewalks and public spaces more green. This organization will help owners and renters alike landscape their sidewalks with greenery to make the area more friendly and useable for neighbors, visitors, and animals. You can visit their office at 2717 Harrison Street, San Francisco, CA, 94110. You can call them at (415)431-2777 or visit their website at: www.plantsf.org
---
Computer Recycling Center
CRC is the place to go to recycle your computer or almost any electronic items with a cord. CRC has a well established reuse program where they will refurbish donated computers and then provide them for use to teachers, schools, foster kids, and local communities. You can drop of your electronics to them at 300 Marina Blvd San Francisco, CA 94115. You can call them at (415) 643-6200 or visit their website at: www.crc.org
---
San Francisco Real Estate Solutions
If you're moving to San Francisco or moving in San Francisco and looking to buy or sell a home, contact Chris, Karen, and Cherie at SFRE Solutions. Buying or selling a home will be one of the largest transactions of your life so you want to work with a San Francisco real estate agent who is honest, experienced, and serves you with integrity. They will go above and beyond to provide you extraordinary service, but most importantly they will deliver results. Visit their office at 2282 Market St. San Francisco, CA 94114. You can call them at (415) 307-1147 or visit their website at: www.sfresolutions.com