MOVING BOXES
OAKLAND

FREE DELIVERY
The Best Green Moving Boxes Oakland Residents Rent With Free Delivery
If you are planning a move in Oakland, forget about getting cardboard boxes. Instead rent plastic moving boxes from ZippGo and get them delivered right to your door. With our moving boxes Oakland residents will simplify their move by saving time, money, and frustration.
Our plastic moving boxes come in three different sizes to pack most of your belongings and because our boxes are made from durable commercial grade plastic, your items will be safe. The attached lids close and can be secured with the free zip ties we provide with every package. Unlike cardboard moving boxes, ZippGo's boxes don't need to be assembled, don't need tape, and arrive ready to be packed.
But don't just take our word for it. Check out our Yelp Reviews and see why over 130 customers have given us glowing 5 star reviews.
---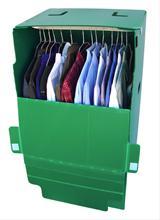 ---
Why Rent
Moving Boxes OAKLAND
SAVE TIME
Instead of buying cardboard boxes, lugging them to your Oakland home, and then spending hours taping boxes, rent plastic moving boxes from ZippGo and keep your sanity. ZippGo rents and delivers plastic moving boxes Oakland residents can start packing the moment they arrive. Our super strong boxes come assembled, with attached lids, and never require tape. Plus we include labels for every box and zip ties to secure each box from prying eyes. If you need additional packing supplies like packing paper, bubble wrap, or wardrobe boxes we have you covered. Check out our Moving Supplies
SAVE MONEY
Being green and saving time are awesome, but what makes ZippGo plastic moving boxes the perfect trifecta is that you save money too. You can save up to 50% renting boxes from ZippGo over going to a store to buy cardboard boxes. Your local U-Haul will charge you an arm and a leg for cardboard boxes and you still have to go there and drag the boxes back to your place. Another way ZippGo Moving Boxes save you money is your Oakland moving company will take less time loading and stacking our boxes because they are uniform and designed to be easily stacked in a moving truck.
A BETTER MOVING BOX
When we launched our plastic moving boxes Oakland residents loved that our service made moving so much simpler. If you live in Oakland cardboard moving boxes are expensive, flimsy, require tape to seal, and you have to worry that the bottom may break with all your belongings ending up scattered across the floor. ZippGo designed our reusable plastic moving box to simplify moves within the Bay Area. Our boxes are conveniently delivered free right to your door and they are made from 100% recycled plastic which is good for the environment.
PROTECT YOUR STUFF
We spent a significant amount of time researching and designing the perfect moving box so our customers could eliminate the stress normally associated with moving homes. ZippGo's Moving Boxes are crush proof so dont have to worry about what you put in the box and how you stack them. They are tear proof so if you have your favorite outfit in one of our boxes you dont have to worry about a sharp corner ripping through the box and ruining it. Our boxes are also waterproof so you no longer need to worry about a storm or flood putting a damper on important paper files.
StopWaste.org
StopWaste.org is a government agency that helps local cities, businesses, schools, and residents reduce waste and their carbon footprint through education and programs. They help to educate on how each decision about purchasing and consumption can can positively influence the reduction of waste. They are located at 1537 Webster St. Oakland, CA 94612. Call them at (510) 891-6500 or visit their website at: http://www.stopwaste.org/
---
Back to the Roots
Back to the Roots is an awesome company which started by taking used coffee grounds to grow mushrooms. They sold these mushrooms at Oakland grocery stores and now sell a do it yourself home kit which allows consumers to grow mushrooms out of a box. They have since released a number of cool products including a aquaponic fish tank which will also grows vegetables, delicious organic cereals, and garden in a can kits. You can visit them at 424 2nd St. Oakland, CA 94607. You can call them at (510) 922-9758 or visit their website at: http://www.backtotheroots.com