MOVING BOXES
BERKELEY

FREE DELIVERY
If You're Looking For Moving Boxes Berkeley Is In Our Free Delivery Service Area
You may have already found a local Berkeley moving company and now its time to start the grueling search for moving boxes. Your first thought might be to buy new or used cardboard boxes from a local moving supplies store or to go to your local grocery store to dumpster dive. If your looking for moving boxes Berkeley residents may have used once and have posted on Craigslist you may run into trouble. The problem with these choices is they are time consuming or expensive or both, and in the end you may up with dirty cardboard moving boxes which either have lots of hidden germs, dirt, or possibly bed bugs.
ZippGo's ultra clean plastic moving boxes are delivered to your home or office with a moving dolly, labels, zip ties, and free delivery. All of our packages have at least two different box sizes including book boxes specifically designed to pack books. Make your life simple, while keeping your wallet fat. ZippGo provides moving box rentals Berkeley residents can order in less than 5 minutes and have delivered within 24 hours. The best part is you get all this with 1 bedroom packages starting at just $69 for a 1 week rental which includes everything you need plus free delivery.
Berkeley moving boxes customers love to tell their family and friends about their ZippGo experience because they love using our service. Diana S. from Berkeley was so excited about her amazing experience she wrote this on Yelp:

"It was PERFECT. The crates are sturdy and very spacious. They stack easily. The movers LOVED them--way better than cardboard boxes"
---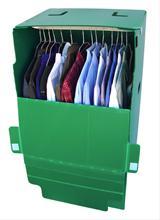 Rent Plastic Moving Boxes
You're already in Berkeley so more than likely you already are living a sustainable life and doing what you can to reduce your carbon footprint. Don't get wasteful cardboard moving boxes and instead rent Berkeley moving boxes from ZippGo. Our moving crates are made from 100% recycled plastic and each one gets reused over 500 times which is the equivalent of 500 cardboard boxes which never get used. Additionally, our green Berkeley moving boxes get delivered right to your door ready to be packed and never need tape. Super convenient and a big time saver.
Hire a Berkeley Moving Company
When picking a moving company Berkeley residents want to be sure they get a quote from at least three movers. Its best to hire a local moving company because many movers will start the clock as soon as they leave their warehouse and if your home is 1 hour away it can get quite expensive. Always make sure your moving company is licensed and insured in California. If they break anything or someone gets hurt, you will be protected. Check local review sites like Yelp and Google Local to make sure the moving company has a good track record with past customers.
Buy Moving Supplies
In addition to Berkeley moving boxes, ZippGo also carries moving supplies Berkeley residents can add on to their box orders. Every successful move uses a combination of moving crates and packing materials to decrease the chance of anything breaking. We carry packing paper which you will use to pack all your kitchen items such as plates, bowls, glasses, and other fragile items. Additionally the packing paper sheets can be crumpled and strategically placed inside boxes to prevent contents from shifting while on the moving truck.
Renting A Moving Truck
If you've decided to forego hiring movers and want to move yourself, you're going to need to rent a moving truck. You have a couple good options to get a moving truck for moving day. First you can go to your local U-Haul and rent a truck. They charge a flat fee of $19.95 plus a $0.99 - $1.29 fee per mile driven. This can get pretty expensive if you are making several trips. Another option is to rent a cargo van from ZipVan. They charge a flat fee of $109 for the full day and you can drive up to 180 miles and they include gas and insurance.
Tracy Palma - Real Estate Agent
Tracy is incredibly knowledgeable about the Berkeley and Oakland real estate market and if you're buying or selling a home, you definitely want her on your side. She has an amazing energy and is incredibly organized. The moment you hire her as your realtor she puts together a strategy and immediately gets to work to bring you amazing results. Don't think twice about hiring her. You can visit her office at 2 Tunnel Rd. Berkeley, CA 94705. You can reach her by phone at (415) 305-6726 or visit her website at www.tracypalma.com


---
E-waste Collective
After you have unpacked your Berkeley moving boxes, you may find that you have lots of electronics items you no longer need or want. You'll need a local electronic recycling facility in Berkeley. The E-waste Collective in Berkeley will accept all your old electronics for recycling at their Berkeley location. Your donation is tax deductible as well. They will refurbish computers and provide them to those in need. You can visit their donation center at 620 Page St, Berkeley, CA, 94710 or visit their website at: http://www.ewastecollective.org
---
Urban Ore
Urban Ore is a one of a kind company where you can drop off your unwanted items such large or small such as clothing, building materials, and furniture. Urban Ore has an enormous warehouse/showroom in Berkeley where they sell all the items which are donated there. You can come across some very interest finds such as used furniture or sign posts for an art project. Urban Ore on any given day prevents nearly 20 tongs of waste from entering local landfills. You can visit their facility at 900 Murray Street, Berkeley, CA 94710. You can call them at (510) 841-7283 or visit their website at: www.urbanore.com