Are you moving tomorrow, in the next few days, or the next few weeks? Call ZippGo and get really strong and ready to be packed plastic moving boxes delivered right to your door. You move to your new place and we pick them up from there. Super easy and convenient! Don't waste your time and money on cardboard boxes. We're a small local San Francisco Bay Area based company with a goal to simplify your packing and moving experience with zero waste! 100% Money Back Guarantee.
Conveniently Delivered To You
Come Ready to be Packed
Cheaper than Cardboard Boxes
2X Storage Capacity of Cardboard
Bottom Won't Fall Out
Crush Proof and Water Proof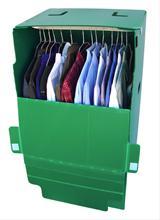 We deliver your boxes when you are available, along with any extra moving supplies you need.
Just pack up your stuff and move to your new location. The boxes neatly stack as you unpack.
When you're done moving in, we'll pick up the boxes from the new address. That simple. We make moving easier.